Nature in New Jersey and Maryland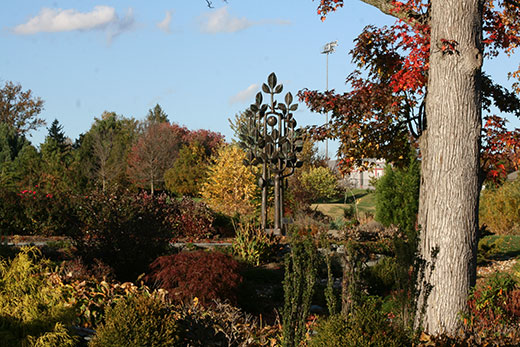 We visited my eldest son this past weekend at University of Maryland. Because most of the events were at the Hillel, we walked back and forth numerous times between the Hillel and the hotel. On the way to the Hillel we saw this garden, and on Friday afternoon I had my camera with me so I took this photo. I was impressed by the "natural" looking sculpture that was part of the garden, and I love seeing well-cared for perennials. You can learn more about this Peace and Friendship garden. The sculpture is by Chinese artist Han Meilin and named The Peace Tree.

Here is the pond in Holmdel Park in New Jersey (photographed two weeks ago). Nearby is a lovely arboretum (I was too tired to take my big camera, but there was some great hawthorn trees with berries and some interesting evergreens). I photographed the pond with my Samsung Galaxy 4. There was a London plane tree on the other side of the pond – its "fruit" or nuts look like tennis balls.

Here's a pig at Longstreet Farm (part of Holmdel Park in New Jersey). We also saw pigs at University of Maryland – there is a little farm on the campus for those studying animal science and also horses for the equestrian club. Both sets of pigs seemed to like to eat dirt. Explain that one to me. My daughter named the Longstreet Farm pig "Piggles."