Blog Assessment and Watercolor Flowers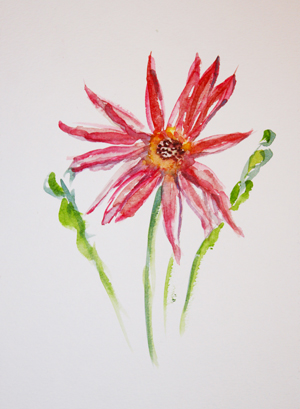 Sometimes you have been elsewhere than the blogosphere, and you want to convey some of what you have learned and seen, but you don't always have a set tale or a method or a how-to or some other funky way of setting up the oh, so awesome post. So some of the places I have been: 1) skiing in Pennsylvania with my sons 2) strolling through Central Park in the cold snow with my husband and daughter 3) viewing the Chagall exhibit at the Jewish Museum 4) creating watercolor exercises like the wet on dry Gerber daisy flower above for the FB group One Watercolor a Day and 5) working away for various clients, including one project for anthropologists that started last June and may finally be close to becoming two new websites. I'm not going to say more about 5), because there is still more to be done, but maybe I can talk a bit about the other "subjects."
On the topic of blogs, what is this blog about? I want to continue to share artwork; this blog can help propel me forward with creative ideas both for my traditional fine art and for illustration work that might be for client work. I would like to continue to share in Nature Notes, though I only participate when I have been photographing nature, and that has been slim pickings lately. Sometimes I talk about Highland Park – I've done Hurricane Sandy and some recent power outages (there were more tonight; friends on the South Side are not having fun). I used to do more recipes – my thinking in the future is maybe I will focus on teaching creative cooking. For example, how does one create a good soup? a tasty salad? Years ago I wanted to blog about how to get one's children to eat healthy food. I still struggle with that, but my children probably do eat more vegetables than the average American, although only if placed directly in front of them in a manner that is appealing. I will sometimes post book reviews, but those take a lot of my energy and time, so expect those sparingly. There are Jewish topics, often of a creative nature like a piyut (liturgy poem), that I love to explore. In the past, I've interviewed artists and writers – maybe I'll have the opportunity to more interviews. And with all of these topics, I love getting your feedback. If you share my enthusiasm for any of these topics, would love to hear so in a comment.
Getting back to my recent adventures, here is a favorite ski slope scene: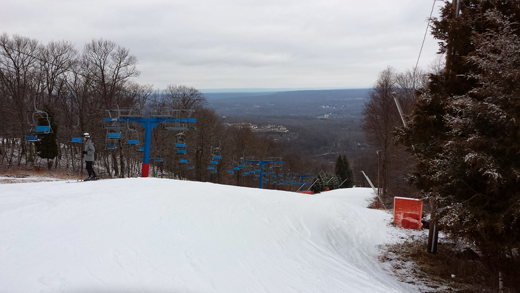 I wasn't allowed to photograph the Tsfat synagogue painted by Chagall that I saw at the Jewish Museum, but I do want to say that my daughter was excited that she had been in that very synagogue. The painting had a more uplifting tone than the one of the Vilna synagogue right next to it – that synagogue, the one in Vilna, was destroyed by the Nazis in World War II.
So who else is assessing their blogs? Susan showed the Little Engine Train that Could as her blog in a podcast, and Jeri decided to put up a survey to assess her blog. Creative approaches!
For this blog post, I've said enough. Will have to save more conveying in a future post! To finish off, here is the wet-on-wet version of the Gerber daisy flower I painted: