Umbrellas Watercolor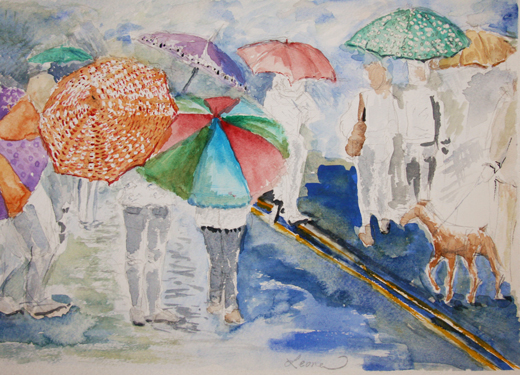 In continuation of a series of watercolors related to Raritan Avenue in Highland Park, here is my latest that I am calling: Umbrellas. I took at least ten photos of this watercolor painting in different light until I picked one that was closest to the image. It still had a little too much blue, so in Photoshop I slightly decreased the balance of blue. The idea of the painting was to emphasize the color of the umbrellas and the wetness of the day. The people are just busy.
You can see the original sketch for this painting and a previous watercolor of Raritan Avenue here. I actually rephotographed that painting and posted a new version.
The brighter less opaque colors in the watercolor on this page are done in gouache. I posted a detail of this painting last week on Google+. Go ahead and Plus One my watercolor Google+ posting, if you like.