Fanciful Fish Watercolor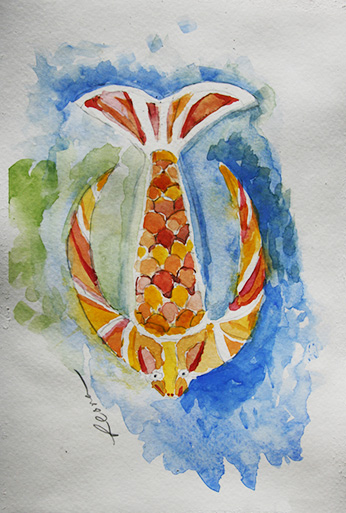 Another day, another watercolor: inspired by the Day #5 exercise in One Watercolor a Day, I drew a fanciful fish using a drawing from a Dover book filled with art nouveau drawings. Then I drew it again on watercolor paper, put on some masking fluid, and painted in some color. All as I fancied – I made up the colors and some of the pattern as I went along.
Here is a detail of the fanciful fish watercolor that I posted last week on Google+:


I decided a good way to use Google+ is when I am having a busy day, but I need a creative break, I quickly post a detail from a painting that I later plan for a whole post on my blog. I also sometimes post photos on Google+.
I am up late writing this post (people who know me well know I am usually an early to bed, early to rise type) because I am waiting for my son to come home from a trip. He went to visit my other son at college. He said he had a great time. He missed the first train he planned to take (a good experience in travel not always going perfectly), and my husband is out now picking him up.
I did a watercolor landscape last week that I based loosely on the photograph at the bottom of this Meron post. I also have lots of photos of robins – they seem to have invaded my neighbor's backyard (and the gutters of my roof as well). So maybe a post on robins tomorrow – we will see. Thank you for visiting!