Watercolor: Baby Dolls, Barbie Doll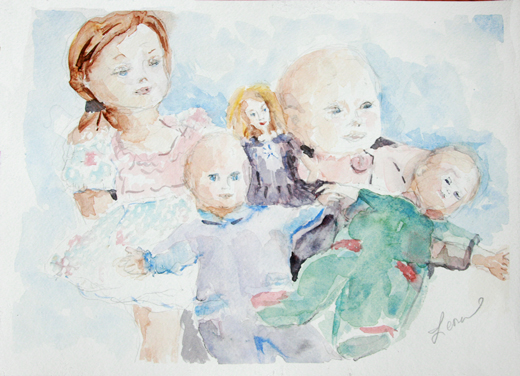 This watercolor of baby dolls, a barbie doll and an American Girl doll was painted in response to a One Watercolor a Day challenge to paint some children's toys. I gathered some of my daughter's dolls in a basket, sketched a simple drawing, then they sat for a few weeks as Purim came, was a busy, fun time, and went. I finally had the time to do the painting (don't believe the part about one watercolor a day – once a week is great, once a month feels like how it needs to be right now). It was fun to watercolor baby dolls, but I'm not sure how much time I will have to do more watercolor painting for a while.
Now it is "sandwich time" – a totally made up term by myself, meaning the time between Purim and Pesach (Passover) in which observant Jews get their homes ready for Pesach. I call it sandwich in that not only are we squeezed at this time to figure out how to get ready, we also aim to get rid of anything resembling a sandwich, such as cookies, crackers, cereals, pasta, pretzels and plenty of other other starchy items. You know all those gluten-filled items you own? We probably can't own them on Pesach. One of the nice features is if we have unopened non-perishable goods, we can donate them to a local food pantry. I even learned I can donate my unopened box of chickenless nuggets to Elijah's food kitchen in New Brunswick. Not sure if I will make it there for one box, but I love the idea of someone else using the food.
Do you do anything special at this time of year: clean your house, start your garden, get ready for a holiday or prepare for a trip? What were your favorite toys as a child?