Watercolor: Nuts, Raisins, Seeds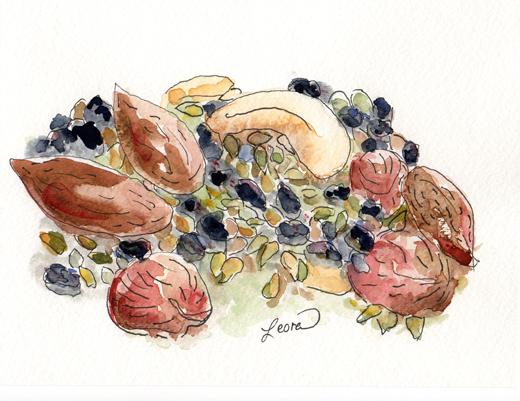 I painted this scene of nuts, raisins and sunflowers seeds for the food exercise in One Watercolor a Day. I'm not convinced of the scale I chose – perhaps since I made the nuts as big as I did, the sunflower seeds should be bit bigger? But no point to criticizing one's own work – here it is for you to view. In the Facebook group for One Watercolor a Day, someone painted a lobster. It was quite a painting – lively and colorful. As I keep kosher, I would not have considered lobster for a food study, but that's the sort of range one gets with these exercises. I also did a watercolor food study of beets – perhaps I will post that one closer to Pesach (Passover) and tell you how to make fermented beets, one of my favorite foods.
My son bought a new printer, an Epson XP-310 (or I bought it for him). I used the scanner for this painting, and I was quite pleased with the results – no more excess gray. I may buy a standalone scanner so I will have a larger scanner (the Epson XP-310 is quite small). When I do, it most probably will be an Epson.
The next watercolor exercise I plan to try is to paint some toys. I have a doll in mind to add to my still life. What other toys should I add? We still do have plenty of toys in this house, even if my children are no longer little.