Three Yellow Ribbons Round Tree Illustration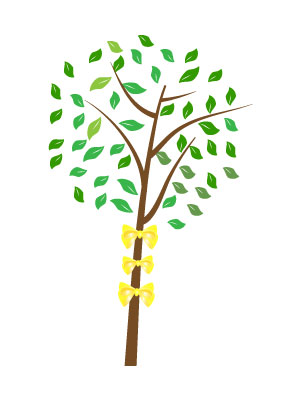 What! She's making yet another tree illustration! Again? What this time …
Here's the back story … Tony Orlando, who popularized the song Tie a Yellow Ribbon Round the Old Oak Tree, visited Israel. He was encouraged to do something in support of families of the three kidnapped teens. He visited the families, and he asked the people of America to tie three yellow ribbons in support of the teens.
A friend in our area has started a little campaign selling yellow ribbons, with the money going back to Israel to support the families and soldiers searching for the teens. I confess I still haven't gotten the ribbons, but I did write this post.
So what is the history of the yellow ribbon? There is a great article by Gerald E. Parsons on How the Yellow Ribbon Became a National Folk Symbol. It seems the yellow ribbons started getting used as a symbol in the early 1980's in support of the hostages in Iran. Parsons writes: "Ultimately, the thing that makes the yellow ribbon a genuinely traditional symbol is neither its age nor its putative association with the American Civil War, but rather its capacity to take on new meanings, to fit new needs and, in a word, to evolve."
On a related topic, the Twitter hashtag #BringBackOurBoys was inspired by #BringBackOurGirls. There are actually, unfortunately, similarities between those kidnappings.
The names of the boys are Eyal Yifrach, Gilad Shaar, and Naftali Frenkel. Hashtag: #EyalGiladNaftali
The boys are close in age to my own teenage sons.