Historical Windows of Asbury, Shawangunks and Ocean Grove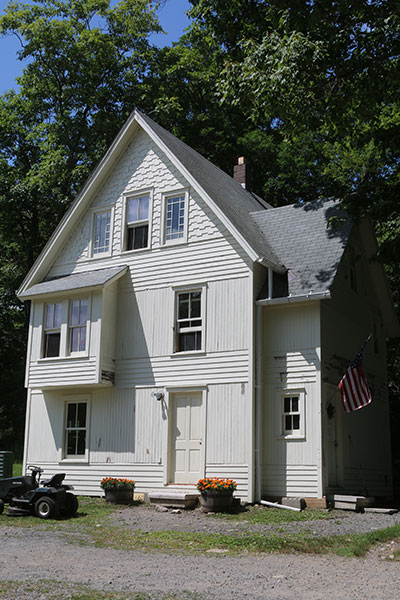 This old white house of wood was next to the visitor center on our hike in the Shawangunk Mountains. It looks like it might have once been a farmhouse. One hundred years ago this area was known for its berry pickers – hard to believe berry picking was once someone's job. But I suppose in other parts of the world it still is.

If you visit Asbury Park, a prominent building is the Paramount Theatre. It is right on the beach, and a promenade boardwalk leads you from the theater to the old casino building. Lots of shops and restaurants have newly opened along the boardwalk. The theater (you can read its history here) was built back in 1927. Two years ago I posted Asbury Park: Pictorial History in Brief).

Finally, here's a beach house with historical windows in Ocean Grove, New Jersey (I'm guessing that the original windows were replaced – these looks simpler than how I imagine windows once used to be). Ocean Grove is next to Asbury Park. It has a rather different history. It started out as a Methodist town – here is some history. My husband remembers when you were not allowed to ride your car in Ocean Grove on a Sunday. He would ride his bike to work at his job, and when he got to Ocean Grove he would get off his bike and walk it.
I'm linking to I Wish I Were a Photographer on Toby's blog. As she says, I wish Israel were no longer at war – I read via Facebook of my cousins and my friends too often needing to go to their shelters to protect themselves from the missiles. Last week, a four-year-old boy was killed.
Want to participate? See Whimsical Windows and Delirious Doors.