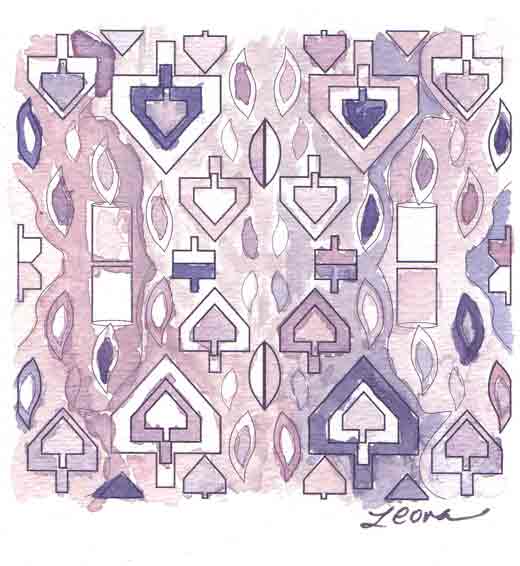 Finally, I have a little more time for watercolor painting. This is exercise 24 in One Watercolor a Day: Playing with Patterns – "Paint an element in one color and its different values…Create a square, then tile it…do a simple repeat."
I created the initial illustration in Illustrator. Then I flipped the pattern both vertically and horizontally, so you have four versions of the tile. Next I printed the graphic on watercolor paper. I mixed various shades and tints of purple watercolor on my palette. I painted using thin watercolor brushes. Once the painting was dry, I scanned it back into my computer and cropped it with Photoshop.

For fun, using Photoshop, I decided to add a little more color (changed a bit of the purple to pale blue). I also added something that looks like a watercolor effect. It might be fun to reprint my Chanukah Pattern Watercolor in black and white and then paint it in multitude of colors. Or perhaps just a palette of blue, red and yellow. Both look a little messy to me, but they are just exercises.
What do you see in the pattern?