Textiles Pattern Watercolor Exercise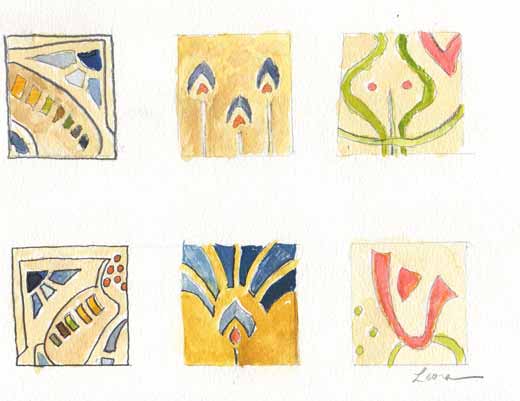 A continuation of my posts of watercolor exercises from One Watercolor a Day, here is a watercolor inspired by American Arts and Crafts patterns. Quick summary of the textiles pattern watercolor exercise (the book has more details and suggestions): "Choose a few elements of a textile print. Create small thumbnails, mixing up elements to come up with something new. "
I enjoyed this exercise, though it did take a fair amount of thinking and time. Copying great art works is always a valuable exercise in general: one sees more carefully when one has to draw, paint or design a copy or similar image. I went to the library and took out some books. The first batch had Tiffany glass, but the exercise said textiles, so I went to the library again. This time I actually did find a book called American Arts and Crafts Textiles (other suggestions were Japanese or Peruvian textile inspirations, for example).
Here is the one of the six above that I liked best, mostly because it made best use of the medium of watercolor (note the background):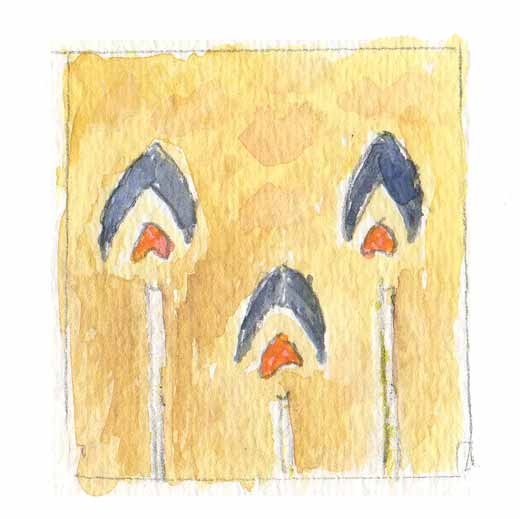 The design is part of a 1911 Richardson Silk Company pillow kit.
When you think of textiles and patterns, what comes to mind? Have you ever seen Arts and Crafts designs and found them inspiring?