Story: Rich Man Insults Unwanted Guest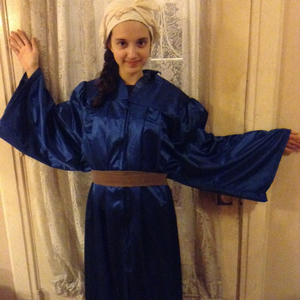 Once upon a time there was a rich man (played by my daughter, see above photo). He was throwing a party. He told his servant to invite one particular guest. His servant messed up and invited the wrong guy. Ooops. Major oopsie doopsie. The rich man was super mad. In the end, a temple was destroyed, and the Jewish people scattered. Yes, to those who know, this is the Bar Kamtza story. Learn more here:
http://www.chabad.org/library/article_cdo/aid/404863/jewish/Kamtza-and-Bar-Kamtza.htm
Or use the Wikipedia version:
https://en.wikipedia.org/wiki/Kamsa_and_Bar_Kamsa
And if you want a really long detailed discussion of the whole story (this is from the yeshiva where my son is, Yeshivat Har Etzion):
http://etzion.org.il/vbm/english/3weeks/9av-65-ryb.htm
Rich Man Insults Unwanted Guest – Bar Kamtza Story in Photos
My daughter played the rich man. Here is the story (or some of it) in photos:


The invitation says: You are invited to Mr. Ashir's Birthday Bash! If your name is Bar Kamtza, don't come.
TIME: Sunset – Sunrise
PLACE: Somewhere

Mr. Ashir the rich man instructs his servant to invite Kamtza to his party. Servant messes up (note the similar names between the friend and the enemy), and Bar Kamtza shows up the party instead.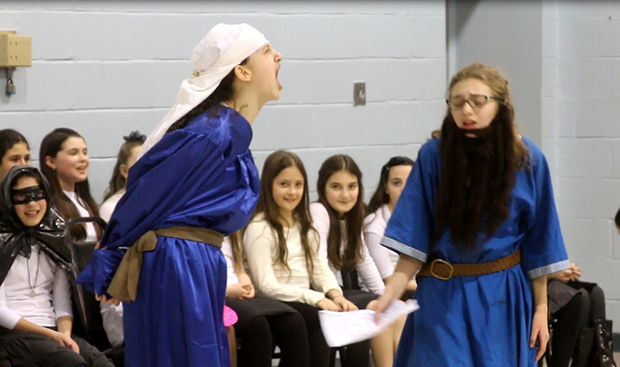 Mr. Ashir screams at the top of his lungs at Bar Kamtza. Now that is one unwanted guest!

Bar Kamtza takes his revenge by putting blemishes on these cows. Everyone including the Roman emperor gets upset. Disaster happens. Temple is destroyed. There are lots of morals of the story (you can look up those up if you are really interested).
Notes on Bar Kamtza Story
1) We never find out anything about Kamtza. He does not seem to be a part of the story. Just has a great name (probably a fake one, like Ploney Almoney).
2) What in the world did Bar Kamtza do that made Mr. Ashir dislike him so much?
Your Turn, Please
If the wrong person showed up at your party, what would you do? How would you treat him or her, especially if it were someone you didn't really like? What if you were a guest, and a host starting yelling at an uninvited guest? What if you were hurt by someone – what do you do with the hurt?