Old Market Photos: Apples, Walnuts and Spices in Mahane Yehuda

In December 2017 we visited the old market (known in Hebrew as a shuk) in Jerusalem called Mahane Yehuda. On a Friday the market is bustling: you can buy fruit, chocolate, wine, baked goods, fish, spices, meat and more! On a Saturday night the place converts into little bars and places to eat. We also visited on Saturday night, but because of the crowds and a broken oven in one restaurant, we ended eating a meal back on Emek Refaim Street, near where we were staying.

My husband bought some wine and some nuts for our hosts that were visiting on Shabbat. My daughter bought some chocolate in a bag. Each little chocolate candy said: "Hatan v' Kalah" – Groom and Bride. This was because our excuse for visiting Israel was the wedding of a relative. She gave the candies to her class members upon return to the U.S.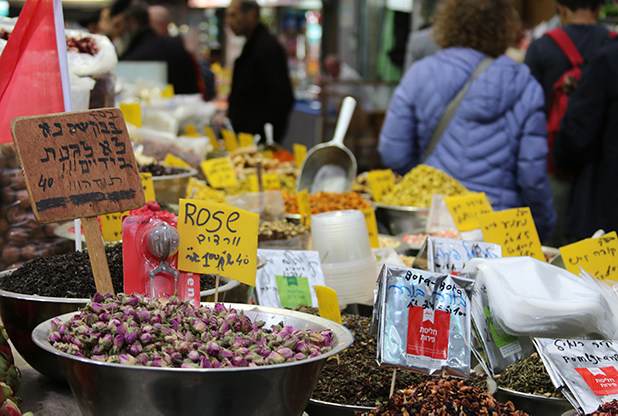 I did not explore the spices carefully, but I am sure I would find some that are unfamiliar. The sign on the left by the rose spices says: "Please do not touch with your hands!!! Thank you!"
Have you ever visited an old market? What did you buy? What did you see?