Three Landscapes By the Water: Watercolors, Markers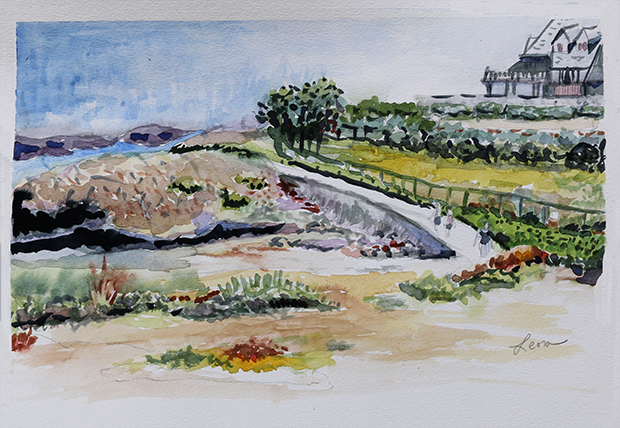 Recently my theme has been landscape with water – this one is a playful watercolor with colors not necessarily seen in the "original" scene. I can see possibilities for doing the scene again in different ways. I would like to spend more time studying the architecture of the house, for example.

This watercolor with a figure by a lake displays an underlying drawing a more or less true to the original composition. Unlike the one above, the colors are more muted. I like the idea of doing this scene with oils or with gouache or with stronger watercolor choices. I love the photo that I took of the scene; however, I don't want to post it because I would rather viewer see just my artwork rather than judging the artwork based on the photo.

This frenetic, busy, intense marker-drawn scene was inspired by a series of videos called Sketchbook Revival. One artist talked about selected certain colors and then just making marks as desired – somehow this fun scene came out of my marker pens as a result. Like the scene on top, this one also has a house by the water. All three have signs of human involvement – the top one has a house, a pathway, a fence and tiny figures on the path. The second has the figure by the lake. The last one has the least – just a scribble scrabble hint of a house.
Over to the readers: What do you like to draw? Has one subject recently inspired you? If you have not drawn or painted, would you like to get started?