Mourning Dove Watercolor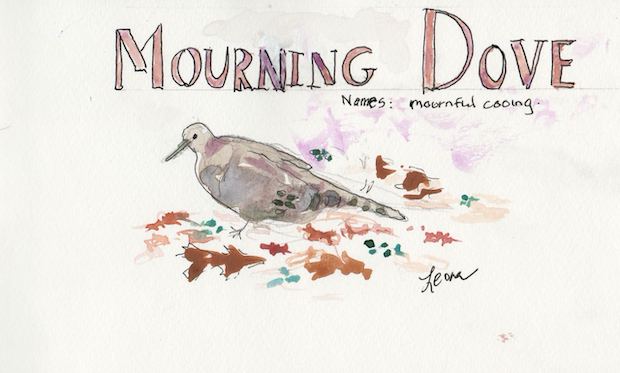 This week a mourning dove was wandering about my front yard. Instead of grabbing a camera and photographing the bird, I took my watercolor sketchpad (Travelogue Artist Watercolor Journal) and used a pencil and pen to draw the bird. I took it back in the house, added a little watercolor to the bird, went back out again to examine the mourning dove carefully. Yes, it did have those spots toward the tail. Yes, they were a shade of darkish gray. Yes, the beak was also darkish gray. Later I looked in my Birds of New Jersey Field Guide by Stan Tekiela and learned more:
Name comes from its mournful cooing. A ground feeder, bobbing its head as it walks. One of the few birds to drink without lifting head.
The one in my yard seemed to have a longer beak than the one pictured in the book.Also, I did not see the bright color in the head that Stan Tekiela showed in his photo. Adding a bit of lavender did seem to match the bird that I saw. However, as an artist one could also say using lavender was artistic license for either shadow or for gradations of hue or saturations.
Do you see birds in your yard? Do see distinguishing marks on the birds, whether color, spots or types of feathers?