Theme of Water in Parshat Shemot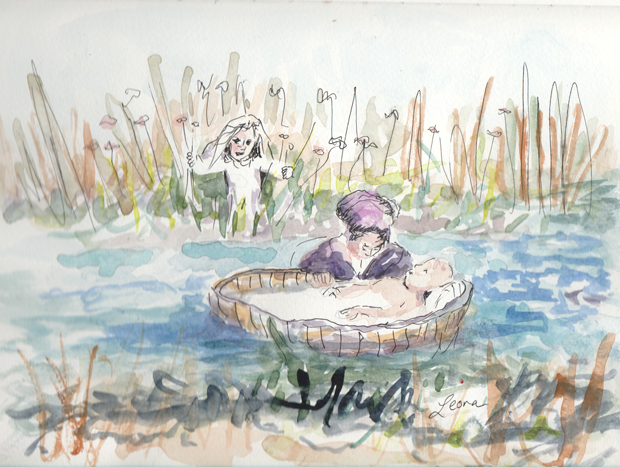 The people of Israel are down in Egypt. A new Pharaoh comes along. He tells the midwives to kill the baby boys. Yocheved puts her baby son in a tevah in the river. Miriam watches from a distance. The daughter of Pharaoh, Batya, comes along to take care of the baby. Batya gets Yocheved to nurse the baby.
What is the importance of water?
Water is the reason Egypt is a super power: they have the Nile. Israel needs rain, creating a situation in which we need to rely on God. We need to pray for rain. This helps one build a relationship with God. Learn more from Rabbi Leibtag.
Noah vs. Moshe
What are the parallels to Noah? Both saved by a tevah. Both have forty days and forty nights. When Gods tells Noah he's going to continue the world through him, Noah responds: OK, sure. Moshe, however, says "No." If you destroy the people of Israel, then erase me from your book.
According to Rabbi Levi Yitzchak of Berdichev, Moshe repairs the flaw of Noah. Rabbi Levi Yitzchak of Berdichev teaches "Moshe is the tikkun (repair) for the soul of Noah" (Keddushat Levi, Noach). This idea is based on the Ari z"l in Sha'ar Hagilgulim who says that Moshe is a gilgul, a reincarnation of Noah.
Noah is told to build a tevah: "Make yourself an ark – tevah" (Bereishit 6:14).
Moshe is saved in a tevah: "She took a papyrus box – tevah."
Noah is saved from the great waters of the flood.
Moshe's name means to be drawn from the water: "Because from the water he was drawn" (Shemot 2:10). In a sense, both Noah and Moshe are "drawn from the water".
Of Noah during the flood: "It would continue to rain on the earth for forty days and forty nights" (Bereishit 7:12).
Of Moshe: "Moshe remained there with God for 40 days and 40 nights" (Shemot 34:28).
Noah does not respond nor plead on behalf of his generation, but merely carries out God's command. "And Noah did all that God had commanded him" (Bereishit 6:22).
Moshe displays care and sympathy. We are familiar with these characteristics from Parshat Shemot when we learn that Moshe cannot sit by idly by when witnessing the suffering of others. He slays the Egyptian and saves Yitro's daughters.
The tikkun of Noah is that Moshe is willing to suffer annihilation rather then continue without Bnei Yisrael. In complete empathy and identification with Bnei Yisrael, he ties his fate to theirs by intentionally sinning by breaking the tablets.
Source: Batya Hefter, Parshat Hashavua, Shemot, Nov 19, 2016
Moshe and the Nile
וַיֹּאמֶר יְהוָה אֶל-מֹשֶׁה, אֱמֹר אֶל-אַהֲרֹן קַח מַטְּךָ וּנְטֵה-יָדְךָ עַל-מֵימֵי מִצְרַיִם עַל-נַהֲרֹתָם עַל-יְאֹרֵיהֶם וְעַל-אַגְמֵיהֶם
(שְׁמוֹת 7:19)
Rashi explains that Moshe was saved by the Nile, so Aharon instead does the hitting of the water for the plague of dam – blood. Importance of being grateful – even to an inanimate object like a river.
More Artwork!
For those who come for the artwork, here is a pen and ink version of Miriam, Batya, and Moshe: