Desert Watercolor and Ox Falls in Pit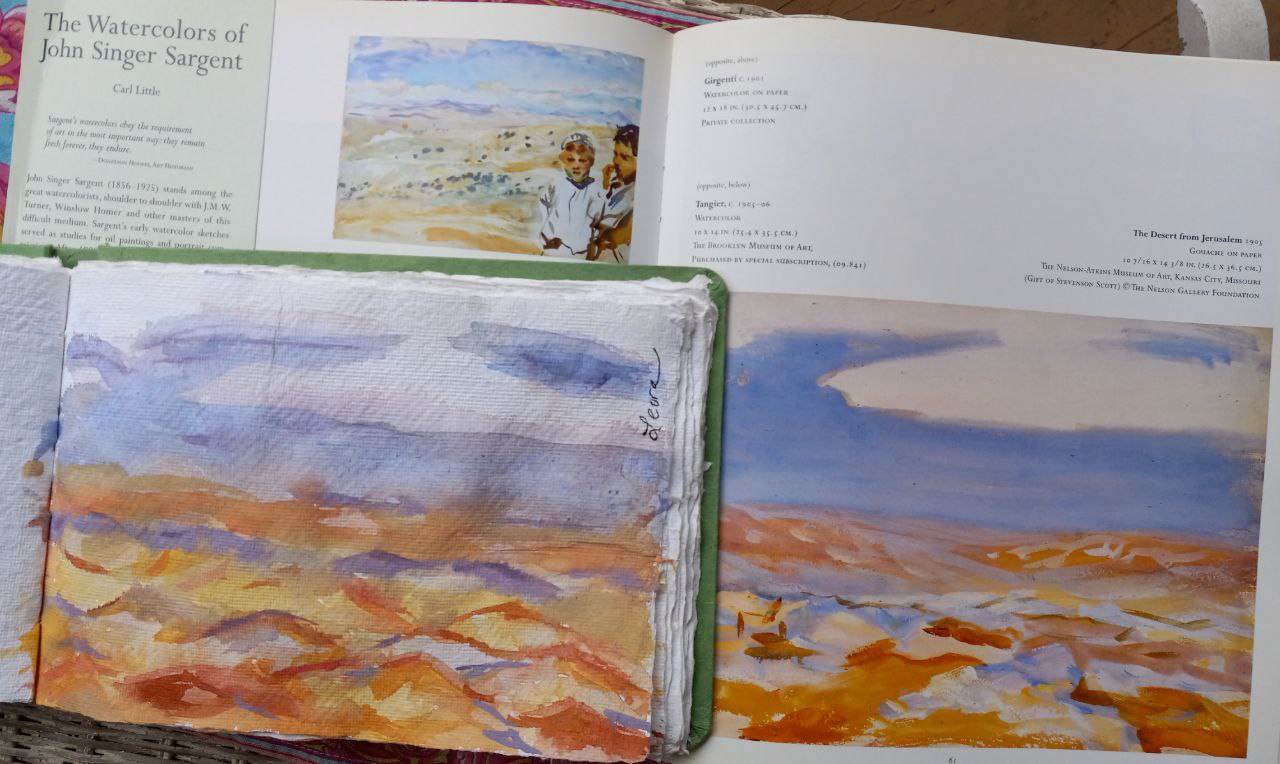 As an adult who wants to learn, one needs to be creative in finding good teachers. One way that I learn new art techniques is by copying master painters. This past week I wanted to paint a desert painting, so I turned to a reproduction of a 1905 John Singer Sargent watercolor of the Judean Desert.
Why a desert? Last week the Torah portion was Yitro (Jethro, father-in-law of Moses), and the people of Israel were wandering around in the desert. So I decided to copy the John Singer Sargent painting of a desert (not the Sinai but one near Jerusalem where some of our friends live, near Jericho).
בַּחֹדֶשׁ, הַשְּׁלִישִׁי, לְצֵאת בְּנֵי-יִשְׂרָאֵל, מֵאֶרֶץ מִצְרָיִם–בַּיּוֹם הַזֶּה, בָּאוּ מִדְבַּר סִינָי
וַיִּסְעוּ מֵרְפִידִים, וַיָּבֹאוּ מִדְבַּר סִינַי, וַיַּחֲנוּ, בַּמִּדְבָּר; וַיִּחַן-שָׁם יִשְׂרָאֵל, נֶגֶד הָהָר
In the third month after the children of Israel were gone forth out of the land of Egypt, the same day came they into the wilderness of Sinai. And when they were departed from Rephidim, and were come to the wilderness of Sinai, they encamped in the wilderness; and there Israel encamped before the mount.
Exodus 19:1-2
We learn in parshat Yitro that Yitro was the teacher of Moshe. Moshe was settling disputes on his own, without any help. Yitro saw that this was not an efficient method of the leading the people. He suggested Moshe appoint leaders to handle many of these issues. We learn that we should not take upon all the problems of society on our own. Instead we should find others to help us.
I am thankful to my husband and to my rabbi for teaching me Torah. This coming week is parshat Mishpatim (laws). I skimmed the parsha and found many work or farm animals are used as examples to teach about disputes between people. For example, here is my illustration of an ox falling into a pit that a person has negligently left open. There is more of the week to study the parsha: looking forward to what else I will learn.