May Jewish Book Carnival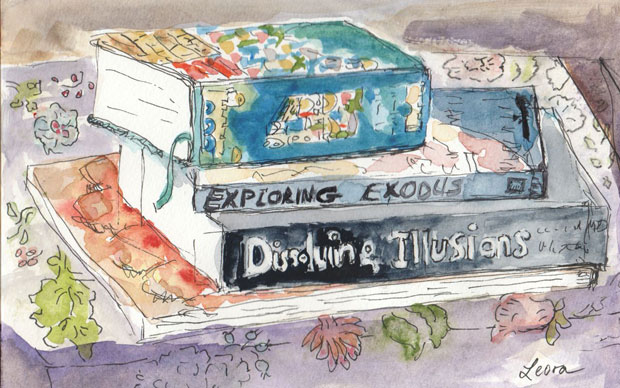 Welcome to the May Jewish Book Carnival!
About the Jewish Book Carnival:
The Jewish Book Carnival is a monthly event where bloggers who blog about Jewish books can meet, read and comment on each others' posts. The carnival was started by Heidi Rabinowitz and Marie Cloutier to build community among bloggers and blogs who feature Jewish books.
On her blog, Book Q&As with Deborah Kalb, Deborah interviewed the editors of the new book The Ones Who Remember: Second-Generation Voices of the Holocaust.
Reuven Chaim Klein reviews four books on his blog The Rachack Review: Disputed Messiahs: Jewish and Christian Messianism in the Ashkenazic World during the Reformation, Moshe Emes: Torah and Science Alignment, Kabbalah and Sex Magic: A Mythical-Ritual Genealogy, and Understanding the Alef-Beis: Insights into the Hebrew Letters and the Methods of Interpreting Them.
Please read Howard Lovy's interview for Publishers Weekly with Danica Davidson, co-author of I Will Protect You: A True Story of Twins Who Survived Auschwitz: Authors Bring Holocaust Story to Young Readers.
On gilagreenwrites, Gila interviews author Avner Landes about his debut novel Meiselman: the Lean Years.
Why is the Hebrew Bible different from all other Bibles? In April, Jill at Rhapsody in Books reviewed "The Grammar of God" by Aviya Kushner in which Kushner answers this question in a fascinating analysis.
Every day in May, Heidi Rabinowitz will post #JewishAmericanHeritageMonth daily kidlit book recommendations at the Facebook page Book of Life, featuring Jewish books from across the United States.
The Book of Life Podcast's May episode features an interview with Dayna Lorentz, author of Wayward Creatures, a middle grade contemporary novel told in two voices: a troubled Jewish boy and a wayward coyote.
On her My Machberet blog, Erika Dreifus routinely compiles news of Jewish literary interest. Here's one recent post, expanded for #JewishAmericanHeritageMonth and other notable May occasions and including a special Yom HaZikaron/Yom HaAtzmaut giveaway that continues through May 18.
At Jewish Books for Kids and More, Barbara Bietz interviews author Betsy R. Rosenthal about her new middle-grade novel, WHEN LIGHTNIN' STRUCK.
Life Is Like a Library reviews Ayelet Gundar Goshen's Waking Lions:
A Jewish Grandmother read a couple of young readers on Jewish themes from Kar-Ben Publishing and was happy to be able to give great books to a granddaughter. The Button Box by Bridget Hodder and When Lightnin' Struck by Betsy R. Rosenthal both have wonderful stories with interesting Jewish themes, They both give some background on Spanish Jewry, which isn't known by many people.
A Jewish Grandmother also reviewed Dear Cousin a great book with a strong moral message. It's a very well-written eulogy/memoir by Elchonon Boruch Galbut about his cousin Brian Boruch Tzvi Galbut.
Bubby has been writing a series of posts on World War II and God's role in Jewish history. The latest is called All the World is a Hidden Purimspiel. The plan is to put the posts together into a book.