Tisha B'Av: Fox in Ruins Watercolor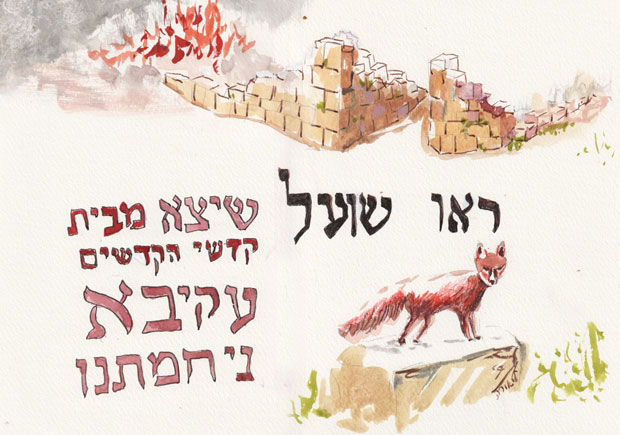 Tisha B'Av (9th of the month of Av) is the saddest day of the Jewish calendar. It occurs in the summer, sometimes in July, sometimes in August. This year it occurs on Sunday, August 7. I wanted to portray an upbeat story but still connect with the sadness. There is a famous story told at the end of the gemara of Makkot about Rabbi Akiva and a fox. The Beit HaMikdash (Holy Temple) was destroyed on Tisha B'Av. However, when it happened, Rabbi Akiva laughed. He laughed because he saw a fox coming out of the ruins.
When they arrived at the Temple Mount, they saw a fox that emerged from the site of the Holy of Holies. They began weeping, and Rabbi Akiva was lauging. Why are you laughing, Rabbi Akiva? … the prophecy of Uriah was fulfilled, it is evident the prophecy of Zechariah remains valid. Akiva, you have comforted us. Makkot 24B
I painted the Fox in Ruins once before, back in 2011. That one had a little Maccabee beer can, as I had been in the Old City of Jerusalem and was dismayed to see litter. I skipped the beer can in my 2022 version and emphasized the text of the Makkot gemara story.
My brand new Derwent Inktense watercolor pencils arrived just when I was finishing up this watercolor. So I added a bit of watercolor pencil to the underside of the fox.