Lion, Eagle, Dog, and Dove Watercolors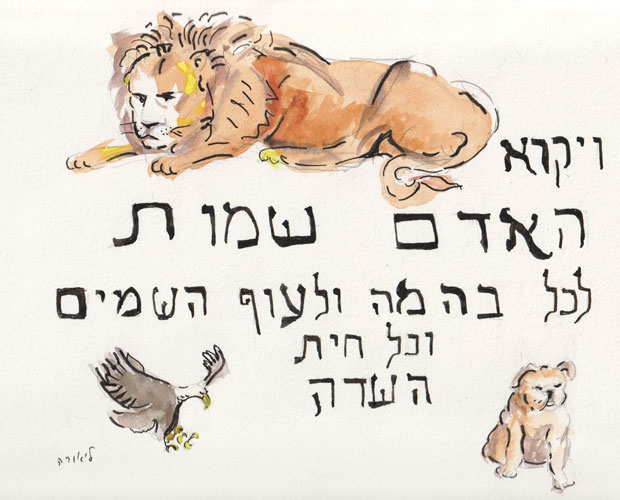 One of my problems with blogging is coming up with text. When I used to use SEO tools (search engine optimization), they would say "you need 500 words or so to be" blah blah blah, something about meriting a golden spot in some grandstanding search engine. Well, if words are needed, here are some words.
A new year begins … we ended the fall holidays of Rosh Hashana, Yom Kippur, Sukkot, Shemini Atzeret, and Simhat Torah. The Jewish year of 5783 has begun. I am hoping to do a little more blogging this fall … Learn How to Ferment (or whatever I will choose to name the post) is almost for publishing. Other blog ideas: How to See In Order to Draw Better. Highland Park Synagogues in Watercolor or Gouache. Highland Park Restaurants. Local Park Scenes. Not all of these will make it to production … but maybe one or two will.
Each week I aim to make an illustration for the parsha (portion of the Torah read in the synagogue on a weekly basis). For Breishit, the first parsha of the year I depicted (Genesis 2:20):
And Adam gave names to all the cattle and to the birds of the sky and to all the wild beasts;
וַיִּקְרָ֨א הָֽאָדָ֜ם שֵׁמ֗וֹת לְכׇל־הַבְּהֵמָה֙ וּלְע֣וֹף הַשָּׁמַ֔יִם וּלְכֹ֖ל חַיַּ֣ת הַשָּׂדֶ֑ה
Why did I choose the pasuk (sentence) about Adam naming the animals? I just liked the idea Adam gave out names. It was opportunity to draw an elephant. Except the elephant did not make it into the finished illustration. Lion is King of the Forest. So Lion is on top. Eagle is a majestic bird, so it got the bird spot. And bulldogs are cute.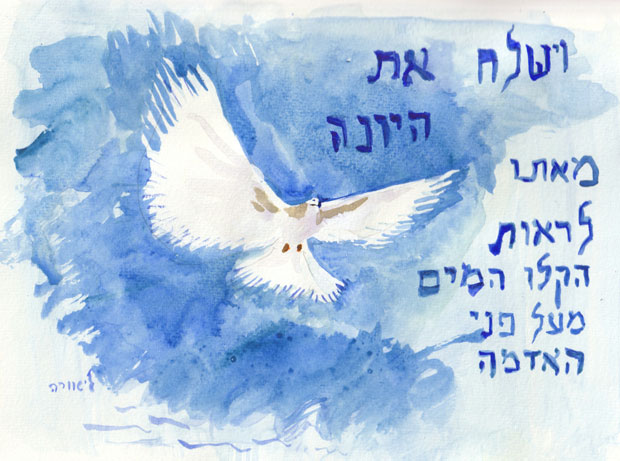 After Breishit, the parsha is Noah. I get a little help each week from Rabbi Avigdor Bonchek, author of the What's Bothering Rashi series.
I chose to illustrate the dove in the story of Noah because of a Rashi about this pasuk (sentence) (Genesis 8:8):
וַיְשַׁלַּ֥ח אֶת־הַיּוֹנָ֖ה מֵאִתּ֑וֹ לִרְאוֹת֙ הֲקַ֣לּוּ הַמַּ֔יִם מֵעַ֖ל פְּנֵ֥י הָֽאֲדָמָֽה׃
Then he sent out the dove to see whether the waters had decreased from the surface of the ground.
Who was supposed to see if the waters had subsided? Noah or the dove? It was Noah. If the dove did not come back, then there was land for the dove. If she found a resting place, the yonah (dove) would not return.
Before the dove, Noah sent out a raven. Maybe next year I will paint a raven.