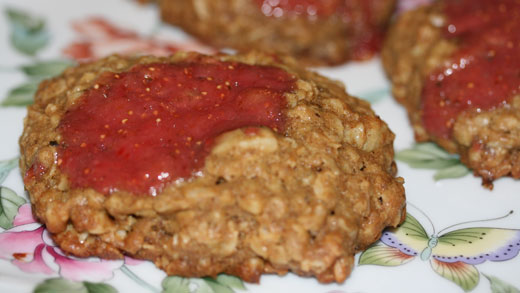 These cookies were a Mother's Day present from my daughter. She had a school assignment to get recipes for a book that would be presented to the mothers on Mother's Day. So she and my husband went looking for the "perfect" cookie recipe – actually, they took various recipes they found online and combined them into a Raspberry Oatmeal Walnut Cookie. Last Friday I decided to make the cookies based on her recipe, and I was wondering why the recipe called for 3 cups of whole wheat flour AND 1 cup of oatmeal – that seemed to be an awfully dry cookie. I modified the recipe as I went along, and I found out when my husband came home that the recipe in the book was a conglomeration of various baking recipes. Oh, now he tells me. The recipe below is my modified version.
Ingredients
1/2 cup brown sugar OR 1/2 cup white sugar + 1 Tbsp. molasses (I did white sugar + molasses)
1/2 cup coconut oil
2 eggs
1 tsp. cinnamon
1/2 tsp. baking soda
1 cup oatmeal (old-fashioned rolled oats)
1 cup walnuts, chopped
1/2 cup flour (whatever you like – I used white, unbleached flour)
Topping (optional):
1/2 cup white sugar
6 strawberries or 20 raspberries (my daughter's recipe called for raspberries – I improvised with strawberries – worked fine)
Heat oven to 375°. Mix coconut oil, 1 egg, cinnamon and sugar in a bowl. Mix well. Add baking soda. Add flour, oats and chopped nuts. Mix well. If it looks dry (which my mixture did), add the second egg.
Put spoonfuls of the cookie batter on a baking sheet covered with parchment paper. Put in the oven and bake for 4 minutes. While the cookies are baking, mix the berries in the food processor with sugar. Take out the cookies after 4 minutes, and apply a spoonful of berry topping to each one. Then bake the cookies for another 8 minutes or so. If you skip the berry topping, you can just bake the cookies for 10 minutes.
• • •
My husband and I loved the cookies, and my sons said they were okay. My boys would have preferred the cookies without the berry topping. My middle son is considering making peanut butter with oatmeal cookies. His current peanut butter cookie recipe is just eggs, sugar and peanut butter.