I have always wanted to see the spring flowers in bloom in Israel, and on my recent trip, I had that opportunity. Too bad my daughter thought the day too cold for an outdoor trip, but to me it felt like April in Boston.

There is a song in Hebrew for these beautiful red flowers that show up all over the landscape in February in Israel: kalaniyot. The English name for these flowers is anemones.

The ones I saw were not yet open. I asked my son who is spending the year in Gush Etzion if he saw any red flowers, and he said, oh yeah, he did see a lot of red flowers. Probably wouldn't have noticed if I hadn't said anything.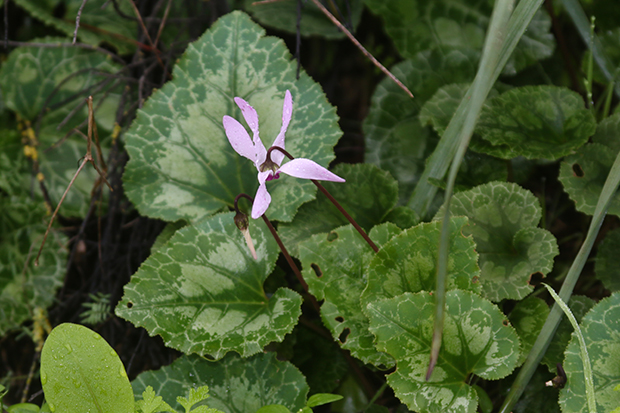 This is rakefet – cyclamen in English. Turns out there is a song for rakefet as well!

This is an almond blossom. That one, too, comes with a song: Hashkedia porahat. In about one month parts of Israel will be full with these blossoms.

I saw this chicory flower as well. I think the Hebrew is olesh.

There is history in the park as well. Supposedly, somewhere in the plains David battled the Philistines.

I'm not sure what city that is in the background, but when you reach the top of Tel Azeka on a clear day, you can see far in many directions. I think the general area is called Emek HaEla – Valley of Ela.
For more Nature Notes: