Slavery to Freedom Salad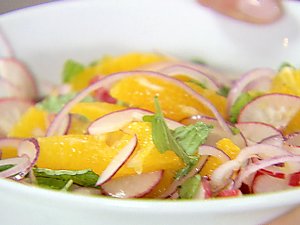 I love the contrasts in Judaism. On Purim, we have v'nahafoch–as we turn around Haman's decree against us. On Yom Kippur, we try to be sealed in the Good Book, as opposed to the other one. After Tisha B'Av, a sad fast day when the Temple was destroyed, we soon have Tu B'Av, a day where unmarried girls wearing white danced in the fields outside Jerusalem. Passover is a time when we remember both the sufferings of bondage and sweet taste of freedom.
I had fun re-creating the above salad presented by Ellie Krieger at The Jew and the Carrot. In general, the Jew and the Carrot is a great blog for anyone with culinary interests. I stole that gorgeous photo from their blog post. Here's the description prior to the ingredients for the salad:
The tension between bitter and sweet is most clearly tasted when we eat charoset, which represents the mortar used during our bitter servitude, yet is most likely the sweetest thing at your seder table. Here's a wonderful salad that Ellie created which plays off this tension in new and unexpected ways:
So, with this recipe's combination of sweets and bitters, I decided to nickname it my Avdut L'Herut Salad, or From Slavery to Freedom. My kids won't eat it (my Eldest Son already complained my kitchen smells disgusting, he doesn't share my love of onions, garlic and herbs), but hopefully, my nieces, sister-in-law and mother-in-law will enjoy! My husband eats all my food. My best customer.
See you next week in the blogosphere!