Sponge Cake Recipe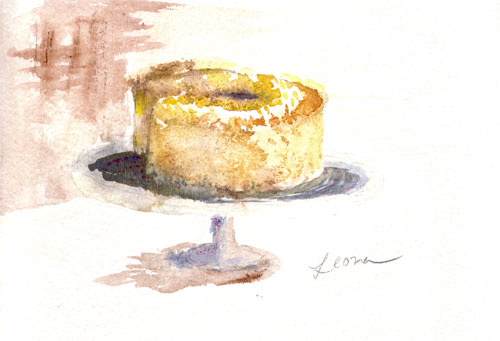 Has anyone heard of Esther Robfogel of Rochester, New York? This is really her sponge cake recipe. It is from the Rochester Hadassah Cookbook, which was given to me as an engagement present by mother's friend from Rochester. Her friend used to make ten sponge cakes a day before Pesach (Erev Erev Pesach), and she gave away about seven. One year our family was one of the lucky recipients of one of these sponge cakes. A few years later, after remembering the delicious taste of that cake, I taught myself to make sponge cake using Esther Robfogel's recipe, which she titled: Never-Fail Sponge Cake.
Ingredients:
9 eggs, separated
1 1/2 cups sugar
1/2 cup cake meal
1/4 cup potato starch
Juice and rind of 1 lemon or orange
Beat egg whites until they hold their shape; add sugar slowly. Beat yolks and add lemon juice and rind. Fold in cake meal and potato starch. Fold in beaten yolks. Pour into large size ungreased tube pan. Bake in 325° or 350° oven for 50-60 minutes. Invert on cake rack and let cool in pan.
And don't do what I did my first year of trying this and use a square aluminum pan. You need to use a tube or bundt pan, or your never-fail cake will fail to bake properly.