Stuffed Squash Workshop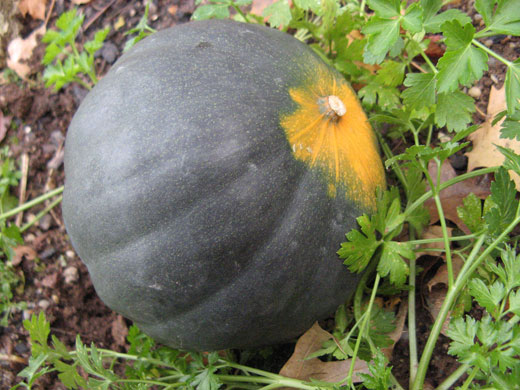 I decided to call this post a workshop instead of a recipe, because you can choose a variety of stuffing ingredients to create your version of this dish.
First, bake the acorn squash until tender. I bake the squash whole for about an hour in a 350° oven. You can do the baking the day before you use it, if you like.
Now prepare your stuffing. You have so many choices! Klara sent me a few of her ideas, so if the ingredient was Klara's idea, I'll say so. (Thank you, Klara). And thanks for some mango tips from Helen and from Alyssa.
Meat
- For carnivores, sauté some onions in a bit of olive oil. Add chopped meat (hamburger meat). When chopped meat is cooked, you have a meat ingredient.
Dairy
- If you want just a bit of cheesy flavor, add some of your favorite hard cheese to the stuffing.
Vegan or Pareve Ingredients
You could make your squash with just pareve ingredients, if you like. Or you can mix it some of these pareve ingredients with your chopped meat. Or you can mix the pareve ingredients with a bit of cheese. (As I keep kosher, I wouldn't dare think of mixing the dairy and meat in one dish).
Grain Possibilities
I like mixing in cooked whole grains in my stuffing: brown rice, wild rice, millet, couscous, bulghur wheat, barley, kasha, quinoa or oatmeal. You could also mix in some leftover bread, such as challah or a multigrain bread. Soak and drain the dried bread before using.
Herbs one could use
So many! Try parsley, cilantro, dill, basil, sage, rosemary, thyme, depending on what you like and what is available locally. Chop and add to your mixed grains.
Vegetable Ideas
Klara told me she loves stuffed squash with shitake mushrooms. Sounds delightful to me!
One could also use: tomatoes, onions, zucchini, broccoli, cauliflower, garlic or celery. You will probably want to cook one of these ingredients a bit before using, either steam or sauté.
F
r
u
i
t
You can even add fruit: chopped apple, cranberries, raisins or clementines. Lemon juice or fresh orange juice can add nice flavor, too.
Helen's suggestion: mango
Alyssa's suggestion: Costco's mango salsa (brand is Santa Barbara and it has an O-U kosher certification - thanks, Helen)
Beans, Nuts
You would definitely need to use cooked beans. If you don't feel up to cooking some beans, there are many varieties that come in a can (cannellini, great northern beans, chickpeas, kidney beans, black beans, to name a few). For nuts, I would mash in the food processor first.
Soy Products
Klara suggested tofu (cubed or mashed), seitan or tempeh (best marinated and then cooked).
S

p

i

c

e

s

Salt, pepper,

turmeric

, oregano, cumin, coriander are all possibilities, but I wouldn't put in too many different spices in one dish.
Combo Ideas
Quinoa, pecans, dried cherries, and sauteed veggies like onion, celery, shitake mushrooms, and carrot seasoned with holiday spices like sage,
rosemary, thyme, and parsley in my squash. MMMMmmmmmm.. ... (A Klara acquaintance)
Like you stuff chicken, with croutons, onions, mushrooms, celery and sage! and salt (How Klara used to do it)
For even more ideas, see Mimi in her Israeli Kitchen on Stuffed Stuff.
Mix your stuffing ingredients, cut your squash in half, stuff each half, and bake in a casserole dish for about twenty minutes before serving.
Happy creating, and happy Thanksgiving.