Squash in Watercolor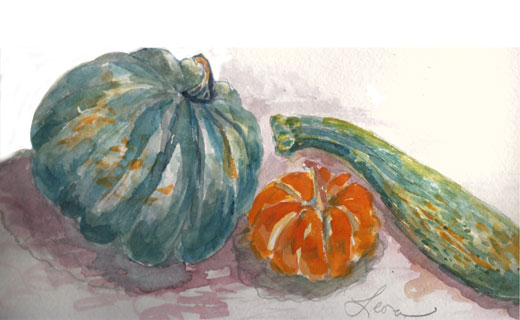 This coming week is Rosh Hashana, the Jewish New Year, and it is traditional to put certain symbolic foods on the table (see my post from last year about the simanim). Yesterday I did this watercolor of three squashes (or simply 'squash' – looks like the plural can be with or without the 'es').
What to do with squash? One of my friends said she will make my squash into a delicious squash soup. Will she share the recipe? Hmm. I could chop up the zucchini and saute it with onions, fresh garden basil and a bit of tomato. The little pumpkin, I told my son, is too tiny for a jack o' lantern, but I told him we could buy a bigger one for that purpose for Sukkot (holiday in three weeks). I will probably make a stuffed squash for Friday night.

Stuffed Squash Workshop