Sweet Vegetarian Stew
Adapted from Olive Trees and Honey: A Treasury of Vegetarian Recipes from Jewish Communities Around the World by Gil Marks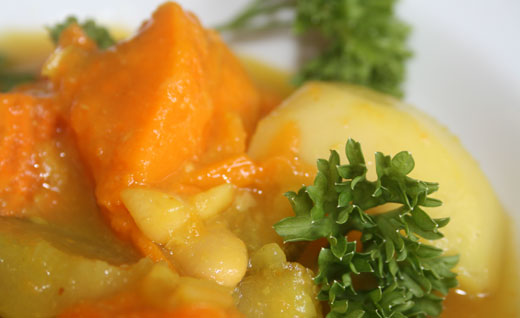 Gil Marks calls this "Moroccan Vegetable Stew for Couscous." I used white beans and brown rice, and I left out the cabbage. I also changed the amounts and cooked it all in a crockpot. Still delicious!
Ingredients:
6 cups vegetable stock (I used water – I'm not one to make stock for a stew)
12-16 baby carrots (or 6 big carrots, cut up)
1 large onion, sauteed (the original recipe says 3 onions and doesn't say sautee)
1 tsp. sea salt
1 stick of cinnamon (original recipe said 3)
1 Tbsp. turmeric (the original recipe said only 1/2 teaspoon)
2 large sweet potatoes, peeled and cut up into pieces (or use butternut squash)
1/2 cup fresh parsley or cilantro
2 turnips, peeled and quartered (they look like potatoes in the finished dish)
3 zucchini, cut into chunks
2 cups cooked beans (original recipe said chickpeas – I used white Northern beans)
If you use dried beans, soak the beans overnight the night before you prepare the recipe. If you use a can of beans, add the can towards the end of the recipe. Cook the beans in your crockpot for a few hours until soft. Add carrots, sauteed onions, sweet potatoes and turnips and cook for another hour in the crockpot. Add spices, the zucchini and cooked beans (if you used canned beans – if you started with dried beans, they should already be in their cooking). Cook until zucchini is tender, about twenty minutes. Sprinkle the parsley on top at the end.
The original recipe says serve on couscous, but I served it on brown rice. Drizzle the liquid on top like it's gravy.
Gil Marks suggests this stew as a dish to serve on Rosh Hashana (yes, the Jewish New Year is the next holiday on the Jewish calendar, unless you count Tu B'Av). I think of it as a summer stew, because you can get delightful fresh garden vegetables to include in the stew at this time of year.