Red Currant Cake
A guest recipe by Ilana-Davita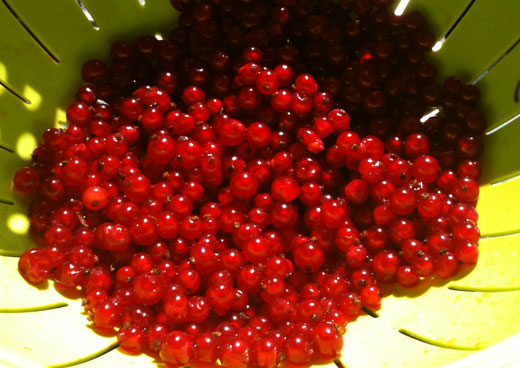 Ilana-Davita presents a lovely currant cake recipe. We don't see many red currants in New Jersey – I suggest trying the cake with blueberries. I did find an article about red currants suggesting they do exist in New Jersey. I can ask the farmers at our local Highland Park Farmer's Market. Ilana-Davita says she doesn't see many blueberries in her part of France. According to this redcurrant Wikipedia article, the North American currants may not taste as good as those of Western Europe.
Ingredients
one pound of red currants
3 Tbsp spelt flour (yes, just that small amount of flour is needed)
1 pinch of salt
3 large eggs
3 Tbsp natural cane sugar
1 glass (appr. 200ml) of buttermilk or milk substitute such as almond milk or oat milk
1 pkt of vanilla sugar (may use vanilla extract)
Mix the flour and salt with the eggs. Add the sugar and milk. Grease a baking pan and lay the currants at the bottom. Add the batter and sprinkle with the vanilla sugar. Bake for 45 minutes at 360°F.
This recipe is my mom's but I have changed it slightly. She uses plain sugar and flour and mixes the vanilla sugar with the rest of the batter.
This cake reminds me of Mollie Katzen's Cranapple-Walnut Cake – I used to make that one with whatever fruit I had available. As Mollie noted at the head of the page: "~very moist ♥♥♥."
And because Ilana-Davita took such a red photo of currants, I am submitting this to Ruby Tuesday: