Warm Quinoa Pilaf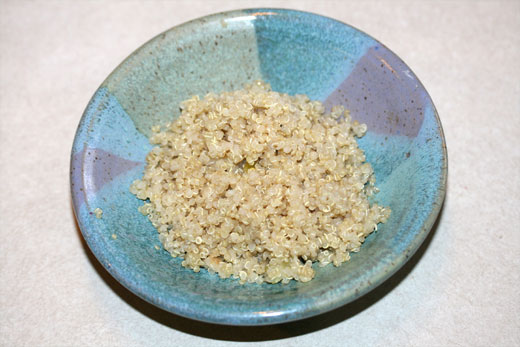 The inspiration for this quinoa pilaf recipe was a quinoa recipe in the New Jersey Jewish News called Quinoa Salad with Pomegranate Seeds. I was planning to make it on Rosh Hashana; however, the pomegranates I bought were sadly under-ripe and the seeds bitter instead of sweet, so I chose to simplify the pilaf and use only sauteed onion and celery for flavoring. The recipe also called for walnuts, and we don't eat nuts on Rosh Hashana (not everyone follows this custom). So I will post a list of optional ingredients for your quinoa pilaf at the end of this recipe post. My pilaf recipe follows what was on the Roland box more closely than the newspaper quinoa salad recipe.
Why Quinoa?
If you find yourself making rice for many meals, why not substitute quinoa at times? Quinoa has a delicious, mild flavor and cooks in 15 minutes flat–more quickly than rice. It supposedly richer than rice in protein, fiber, magnesium and calcium, and it is gluten free. I felt fortunate to find a box that was pre-washed (for Central Jersey locals, it was Roland brand in Stop and Shop with an O-U certification). Otherwise, one has to rinse off the naturally occurring bitter coating known as saponin. An advantage to quinoa is Ashkenazim may eat this grain on Pesach, so you will find me linking to this post in the month before Passover.
Quinoa Pilaf: The Main Ingredients
1 cup quinoa, rinsed
1 tsp. olive oil (or use coconut oil)
1 stick chopped celery
1 chopped onion
Optional Ingredients
chopped carrots – add with onions
chopped zucchini – add with onions
chopped or crushed garlic – add with onions
salt and/or pepper to taste – add with onions
juice from 1/2 lemon
fresh herb (dill, oregano, basil) – add toward the end
1/4 cup pomegranate seeds – add at the very end
1/4 cup craisins (dried cranberries) – add at the very end
1/3 cup walnuts
1 chopped scallion
Quinoa Pilaf: The Recipe
Assuming you have already rinsed the quinoa, boil 2 cups of water with or without a bit of salt, then add the quinoa. Saute the onions and celery (or not – you can just add chopped celery without the sauteing, if you prefer – the newspaper version just had you mixing in the celery with walnuts and olive oil). Mix with the quinoa and with any other optional ingredients (the newspaper version used craisins, pomegranate seeds and lemon juice). May be served with scallions on top.
I like the recipe warm, but I found it tasted OK cold as well. Also, I was able to reheat the dish easily.
More quinoa recipes:
Or maybe you want to try millet: Millet with Carrots and Zucchini