Mock Chopped Liver with Lentils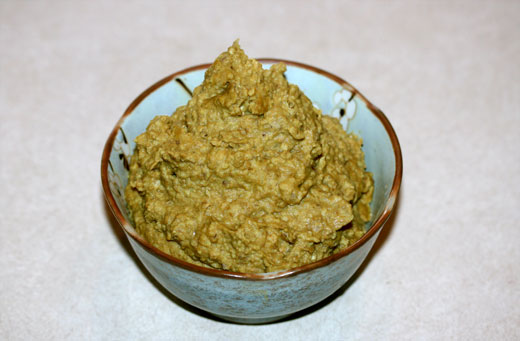 On Friday I made this version of a lentil paté that really does look like chopped liver, so I am calling this recipe "mock chopped liver." I previously posted a recipe that I called vegetarian chopped liver – that one suggests eggs, and this one needs no egg, so it is suitable for vegans.
Ingredients for Mock Chopped Liver
3/4 cup lentils
1/2 cup walnuts
salt to taste
1 onion
1 tsp. cumin
1 tsp. coriander
optional: ginger
Cook lentils until soft (add a bit of salt while cooking). Soak walnuts for about one half hour. Sauté onions for about one half hour – the lengthy sautéing helps to caramelize the onions, bringing more flavor to the recipe (if you stop after 15 minutes, it will still taste good). Blend lentils, walnuts and onions in the food processor with spices.
The inspiration for this recipe comes from Mary's Lentil-Walnut Spread, Lentil Walnut Pate and my friend Klara.
I added this post to Ruth's Real Food 101.