Broken Glass and a Vandal is Arrested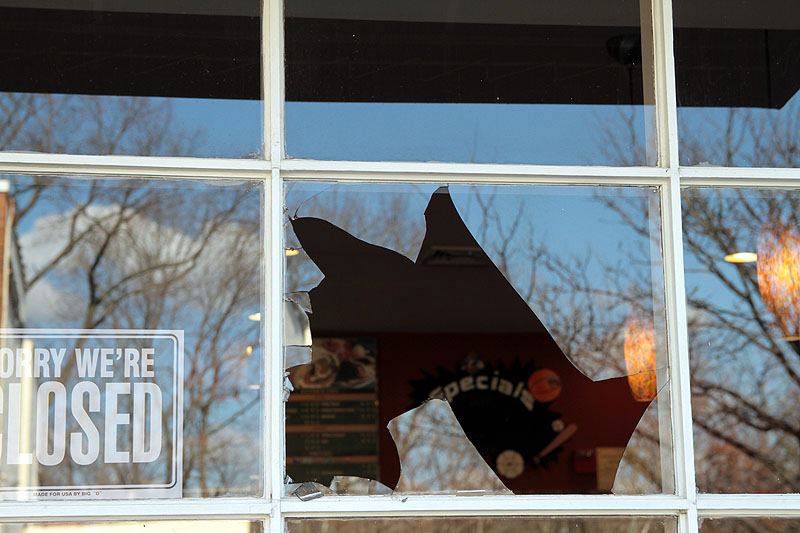 Yesterday a friend posted online that she had just finished reading The Book Thief and then she discovered five Jewish businesses in Highland Park had their windows smashed overnight. Shortly thereafter Mason Resnick posted these Kristalnacht like photos on Facebook. The end of the story was a disturbed individual was arrested.
I will be visiting the Judaica Gallery today because I need to make a purchase for my daughter – at least those of us that are local can support the businesses that were targeted. Rutgers Hillel and Chabad in New Brunswick also were targeted with smashed glass, as well as the restaurant Maoz. The Highland Park businesses were Jerusalem Pizza, Park Place, Judaica Gallery, Trio Gifts and Jack's Hardware. Maybe I should go buy some light bulbs at Jack's.
A big thank you to the Highland Park police for their quick and decisive action regarding this crime.
Update: A Letter from Mayor Steve Nolan (it ends with: "As a community, we are much stronger than a pane of glass could ever be." – bravo)
Update: An excerpt from a letter from Rutgers Hillel director Andrew Getrauer:
Wednesday morning at 2 AM a Jewish Rutgers student, very
involved in Hillel, was at the kosher Dunkin' Donuts in Highland Park,
when a man approached him and started a conversation about Jewish
issues. He identified himself as Jewish. This deteriorated into a rant
where the man also declared himself a neo-Nazi and told the student he
should be in a camp and killed like his ancestors, and that he would
start a 'second Kristalnacht.' At this point the Dunkin Donuts staff
threw the man out of the store.

Wednesday morning Highland Park woke up to find 5 Jewish-owned
stores with windows broken; 2 Judaica stores, 2 kosher restaurants, and
a hardware store owned by an Orthodox man. A Jewish-owned falafel
restaurant in New Brunswick was also targeted. Hillel staff contacted
the student who had encountered the man at Dunkin Donuts and made sure
he was in touch with police. Hillel staff contacted the ADL and New
Brunswick police to help connect the dots between the various incidents.
There was wide spread anxiety throughout the local community, expressed
thru constant phone calls, emails, Facebook and twitter messages. To
give you a sense of the feeling at the time, people were calling it
"Kristalnacht in New Jersey."
More details were reported in the Star Ledger, New Jersey Jewish News and other press.