Shepherd Pie – Vegan Version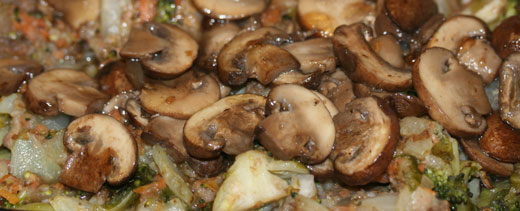 It seems that a traditional shepherd's pie is chopped meat, potatoes and vegetables piled in layers in a casserole dish. I re-found a delightful vegan version of this recipe in my Moosewood Restaurant Low-Fat Favorites. I served this vegan version to my company on Chanukah; it was well-received. However, I didn't care much for all the potatoes in the dish. So I re-wrote the recipe using mashed turnips instead of mashed potatoes, and here is the result. You can try it on your own with either turnips or potatoes, whichever you think you may prefer. My friend Klara suggested you could also substitute sweet potatoes.
Ingredients for Potatoes/Turnips Layer (bottom layer)
4 large turnips, cooked and mashed with the garlic cloves (or 3 cups mashed potatoes)
2 garlic cloves, peeled
1 tsp. salt
Ingredients for Vegetables Layer (middle layer)
1 chopped onion
1 tsp. olive oil (or other vegetable oil or coconut oil)
1 cup cooked cauliflower (or cooked broccoli or cooked brussel sprouts, chopped into pieces)
1/2 cup grated carrots
1/2 cup diced red or green peppers (optional)
1/2 cup kasha, cooked
1 Tbsp. red wine or sherry
2 tsp. oregano or marjoram or thyme (and/or fresh parsley)
1 tsp. soy sauce
salt and pepper to taste
Ingredients for Mushrooms Layer (top layer)
8 oz. sliced mushrooms
1 Tbsp. corn starch or potato starch (original recipe said corn; I always have potato starch available from Pesach, so I used that)
1 tsp. soy sauce
1 Tbsp. cold water
1/2 cup vegetable stock (or stock from potatoes, if you used those instead of turnips)
ground black pepper to taste
Cooking and Assembling the Shepherd Pie
Bottom Layer: Cook the turnips covered in water. Add garlic cloves. Add salt toward the end. Mash the turnips at the end.
Middle Layer: While turnips are cooking, sauté the onions in the oil for about 5 minutes. Cook the kasha until tender. If vegetables (cauliflower, brussel sprouts and/or broccoli) are not yet cooked (I used leftover vegetables), steam until tender. Mix the onions with the kasha, cauliflower, carrots, and other ingredients for the middle layer.
Preheat oven to 350°. Spread the turnips in a lightly oiled baking dish. Layer the vegetables with kasha on top. Bake uncovered for about 15 minutes.
Top Layer: combine mushrooms, wine, soy sauce, herbs and stock in a saucepan and cook until mushrooms soften and release their juices, about ten minutes. Add the corn or potato starch and let it continue to cook, stirring until it thickens. Add pepper to taste.
Put mushroom layer on top of the baked bottom two layers. Garnish with scallions or parsley if desired. You can also cut the pie into pieces and put the mushroom "gravy" on top of each one, but I generally like my guests to take if they want, so it works better to have the whole dish in the middle of the table as a choice.
This shepherd pie can be a nice accompaniment to a meat or fish meal, or it can be a main dish alone if you have a guest who is vegan. Or maybe you just found out you are lactose intolerant and crave a casserole. As Ilana-Davita remarked that my last recipe on hummus might be more suitable to a summer post, here's a tasty dish befitting a cold January evening.