Matza, Nuts and Chocolate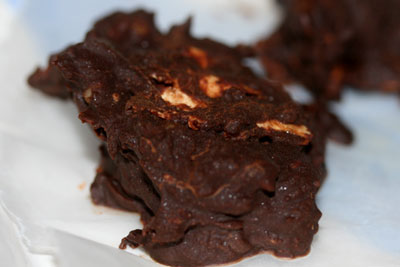 Have any leftover matza? See any matza for sale and wonder what one might do with it? Here's an easy dessert I made with my daughter during Passover.
Ingredients:
1 bag chocolate chips
1 sheet of matza, broken into pieces
1/2 cup of your favorite nuts (walnuts, almonds or pecans) broken into pieces
Paper plates, a large spoon and wax paper
If you want, you can soak the nuts for a few hours to make them more chewable. Melt the chocolate chips in a saucepan. Add broken matza and nuts and mix with the chocolate. Put a sheet of wax paper on a paper plate (the flat white kind that one puts in the microwave work best). Put a spoonful of the chocolate mixture unto the wax paper. Repeat until you have filled the wax paper (you can probably fit about 5 or 6 of these on a paper plate). Repeat on another paper plate (our mixture made two platefuls). Place flat in the freezer. Serve straight from the freezer.
Do you have any fun, creative matza dishes?