Snow White and the Old Hag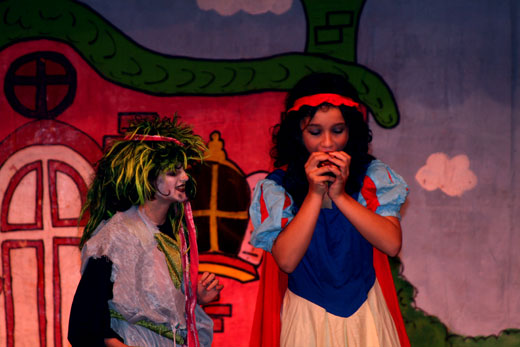 My daughter's theatre camp, Middlesex County College Theater Camp, put on Snow White and the Seventy Dwarves last week. My daughter had the great privilege of being picked for the character role of the old hag, the old woman who is really the wicked witch and tries to kill Snow White with a poisoned apple.

Here she is smiling at the end of the first show – I confess, my focus of watching the show was – when does the old hag enter? When does she do her evil cackles? I had a grand time watching her. As a child, I loved acting as well. I love that my daughter has this grand opportunity through camp.

This was a dramatic scene – here the Woodsman is about to kill Snow White, but of course, he does not. He brings the evil queen the heart of a pig. Do you think this will fool the wicked queen?

Trick this wicked queen into believing the heart of a pig is the heart of Snow White? She is not tricked. She sets out to kill Snow White as an old hag.

In this scene Snow White greets the prince. I'm not really sure what those two guys on the right are doing.

I took lots of photos of my dear daughter the old hag – I was so thrilled by her portrayal of the character. It was a great show, and one we will remember for many years to come.
For more of My World Tuesday:


See also Ruby Tuesday Two.
Upcoming Shows at Middlesex County College
This coming Friday, July 27, the show will be Rumpelstiltskin, and next Friday, August 3, the show will be Chitty Chitty Bang Bang. There are two shows each Friday: one at 9:30 am and one at 11 am. Tickets are only $3.