Sons of Israel in Asbury Park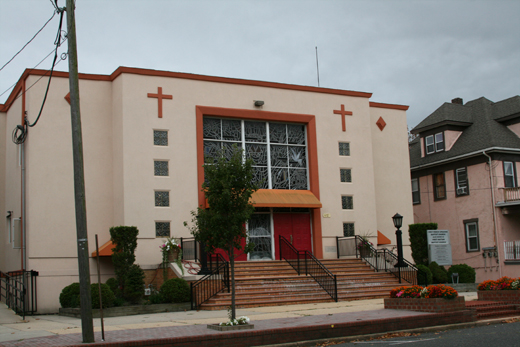 Congregation Sons of Israel in Asbury Park, an Orthodox Jewish congregation, was founded in 1904. The congregation has since moved away from Asbury Park, but for several decades it was housed in this building in Asbury Park. A few weeks ago we rented a four wheel cycle (pedal car) from Brielle Cyclery on the Asbury Park boardwalk and cycled past the building, which now belongs to a church (First French Speaking Baptist Church).

The building now has two large crosses in the front: one has to look carefully to see signs that it was built as a synagogue. Details to notice are the stained glass windows.

What do you see in those windows? I see a Torah, menorah, ner tamid, a book, a dove, and possibly someone praying in a prayer shawl on the right.

Also, if you look carefully at the carvings in the front you will see the Hebrew date of 5709 and the corresponding Gregorian date of 1949, the year the building was built for Congregation Sons of Israel.
For more information on the history of Jewish Asbury Park, see Asbury Park: Pictorial History in Brief.