Sculpted Fish with Tehina Recipe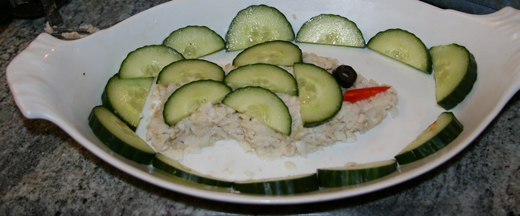 This sculpted fish with tehina recipe is adapted from a recipe for fish with sesame spread (Samak bi'Tehineh) in Aromas of Aleppo by Poopa Dweck. It is both healthy and easy (and I can't say that about many of the recipes in the book – the more complicated ones are fun to read, but I doubt I will try them). Poopa uses oil to bake her fish, which is traditional in the Syrian Jewish community. I used water to bake mine. Guess what – use a good piece of fish and it will still taste delicious baked or cooked with water (and truthfully, I like it better than heating oil for cooking, anyway). Her recipe also called for larger amounts, and since I was 1) just trying out the recipe and 2) aiming to please mostly my husband and myself, I used a smaller amount of fish and other ingredients.
Ingredients
3 or 4 pieces of flounder fillet
pan for baking the fish (and for displaying the fish – or transfer to a pretty oblong platter)
water to cover the bottom of the pan
lemon juice (optional)
1 Tbsp. tehina
1 black olive – cut to one slice for the eye of the fish
1 strip of red pepper for the mouth
several slices of cucumber for the fish scales
Place fish in baking pan. Cover with water (not a lot – maybe half an inch?). Cover the pan. Bake at 350° for 30 minutes or until tender. You can also add lemon juice to the water for flavor before baking. When the fish is tender, take it out and let it cool for about 10 minutes. Mash the fish with a fork and add the tablespoon of tehina. Sculpt the fish into the shape of the fish: add olive for eye, red pepper for mouth and cucumbers for scales. Serve and gobble it up. Multiply amounts for larger crowds.