Notes on Lecture with Dandelion and Periwinkle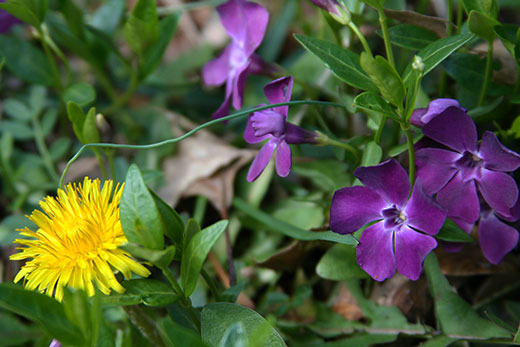 This past week I was more than a little distracted by the news in Boston. I grew up in the Boston area – I used to go to the Boston Marathon as a child when it passed through Newton, cheering on the runners. I lived in Cambridge, worked at MIT and spent time in Watertown. I have many friends who live there. Despite my intense interest in the details, I have no desire to become a political blogger. I will refer you to the blog of my friend Daled Amos – he writes well, explains political topics if you want more information and has a background as a teacher. He often quotes other political bloggers.
I have hopes to write a Nature Notes post this week and maybe a recipe for rice salad. If not, they will show up next week. Meanwhile, a few notes of interest:
I had the opportunity to attend a lecture at Rutgers by Professor Maud Mandel on
Muslims and Jews in France: Genealogy of a Conflict. In a tiny nutshell, her premise was to "question past monocausal explanations" (I believe she meant she was suggesting more than one cause). Her book is coming out in January 2014; here are a few of the causes she mentioned:

Jews from Algeria made citizens of France; Muslims were not. (1870)
North African Jews had welcome from established Jewish community; Muslims had no one, initially.
In 1968, Maoists (a group of Leftists) tried to convince Algerian Muslims to side with Palestine. The Maoists equated Palestine with Vietnam. At first, it didn't work, but later it caught on.
For two years Muslims and Jews worked together on racism (SOS Racisme), but then that fell apart. (1984)

Rutgers Bildner Center for the Study of Jewish Life hosts free lectures like this one in the spring and fall; see Public Events.

On The Prosen People blog of Jewish Book Council you can read the April Jewish Book Carnival.
I published an interview with marketing director David Rekuc: Blog Interview on Marketing, eCommerce and Edison, NJ. Looking to interview other central New Jersey business people, especially those who make good use of social media, websites and/or blogs.
Note about the photo: I love the combination of dandelions with all the purples of this season. I purposely left a few in my front yard, to complement the grape hyacinths, creeping phlox and purple deadnettle. The periwinkle/dandelion photo is actually in a yard a block from my home.