Watercolor: Highland Park Traffic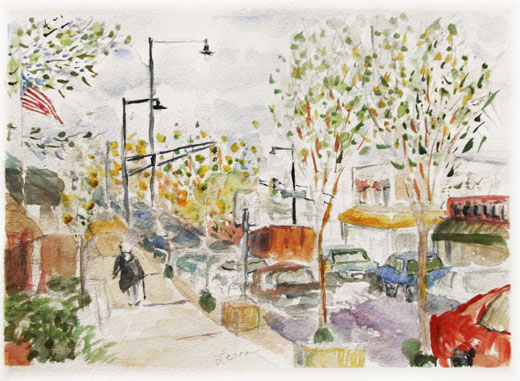 I started this watercolor Highland Park Traffic several months ago when we first started our artist group. After a month or two of getting frustrated with the details, I put it aside. I finally decided to finish it yesterday and ignore the details that weren't clear. So if it looks like the cars are swimming in a river of purple watercolor paint, so be it.
The scene is Raritan Avenue in Highland Park, New Jersey. And often it does look there is a sea of cars swimming on the avenue. Our little borough's downtown has an old-fashioned look. There are also numerous senior citizens that live in the town. When I took a photo several months ago, I unknowingly captured an older woman with a cane. She reminded me a bit of my father, who walked with a cane in the last months of his life.
I am trying to decide whether to continue with watercolor or delve back into the more time-consuming oil painting. With oils, it is easier to rework parts of the painting. With watercolor, other than careful lifting, it is quite difficult to make changes once one has laid down the heavier colors. And unless you use gouache, there is no white paint, so it is important to leave the whitest whites blank paper.
Question for you: what pops out at you in this painting?