Seagulls at Point Pleasant Beach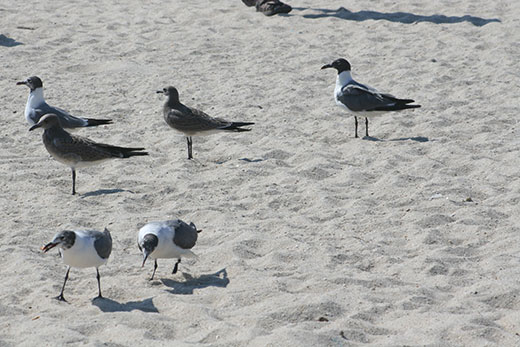 What a lot of seagulls we saw at Point Pleasant Beach in New Jersey. My daughter was a bit frightened of how low they swooped while we sat on the beach. It was crowded with humans; I'm pretty sure there were more humans than seagulls, but that fact is debatable.

What do you notice about the seagulls?

I couldn't figure out when they wanted to hang out and when they preferred to fly about. There was a lot of both going on.

A whole lot of flapping of wings and flying off in this photo.

This seagull in the middle looks like he is jumping.

A crowd of seagulls do their thing, flying or flapping or hanging around.

And they are off: flying in the sky are the seagulls.

Thank you to this seagull for posing nicely for my camera.
There are more than just seagulls at Point Pleasant Beach. There are amusement rides, mini golf, arcades, a boardwalk, a fun house, lots of junk food being sold (at about 4 pm half the people I saw held an ice cream cone), and many beach umbrellas.
For more Nature Notes: