Recipe: Fermented Beets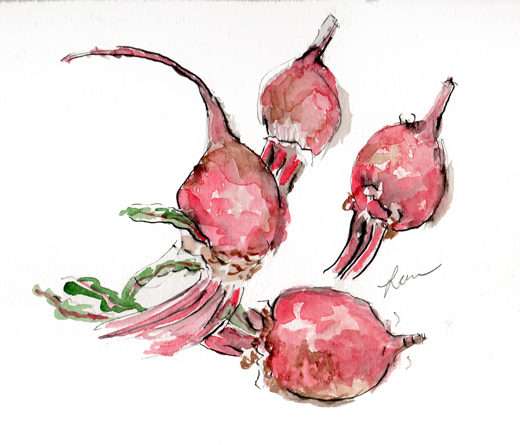 Beets and early spring: do you associate the two? In any case, I'll teach you how to make fermented beets. You only need two food ingredients: a bunch of beets and some salt. We won't be cooking the beets, although I did find recipes that cooked the beets before fermenting. Cooking might make it easier to digest, but it also might kill off some of the nutrients. And I like the crunch of raw beets. You will also need a sharp knife, a cutting board, a glass jar (a mason jar is fine), a small baby food jar, a piece of thin cloth and a rubber band.
Ingredients
3 or 4 beets
2 tsp. sea salt
water
Wash the beets as best you can and cut off the ends (the part with the leaves and the part that looks like a tail). Cut each beet in half once and slice as thin as you can. Place the beets in a glass jar with a wide top. Add sea salt. Add enough water to cover the beets. Place a small jar on top of the beets to push them down into the brine. The beets need to be submerged in water. Cover the jar with a thin cloth and hold the cloth in place with a rubber band. Wait about two weeks. Fermented beets! In the heat of the summer, you may only have to wait two days instead of two weeks. If you are fermenting for the first time, you should check it every few days to see how the flavor changes. Really, you should do that whenever you ferment, but in reality you might just move on to other things. If you feel your beets are done fermenting, store them in the refrigerator.
You can even drink the liquid – I believe it is called beet kvass. I mix mine with a bit of seltzer.
See also: Three Beet Recipes
If I am organized enough, I might make these fermented beets two weeks before Pesach (Passover).