Recipe: Matza Brei – Salty, Savory or Sweet?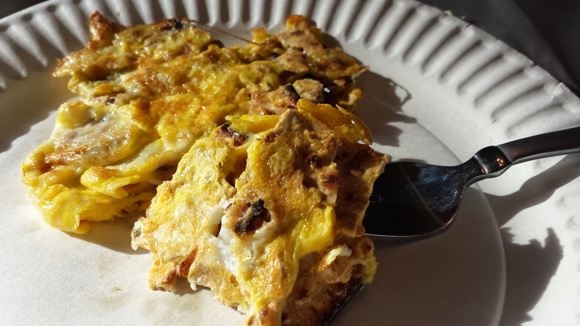 One of my favorite foods to eat on Pesach (Passover) is matza brei (that's bri with a long i as in sky or apple pie). Here is the basic, basic recipe:
Ingredients
1 piece of square matza (can be regular, whole wheat or any other kind)
1 egg
1 or two pats of butter
Equipment
1 bowl
1 fork
1 frying pan
Take the egg. Crack it into the bowl. Stir. Crack matza into pieces, large or small matza pieces (your choice). Let matza soak (this is sort of like French toast, except unleavened). Put a pat of butter in the frying pan. Heat butter until it bubbles. Add egg-matza mixture. Cook a minute, stir, flip and cook the other side. Use the other pat of butter if necessary. When the egg is cooked but not too much, slide the matza brei unto a plate. Enjoy. Eat with a glass of orange juice, a cup of tea or coffee or plain water if you like.
Variations of Matza Brei
As my friend Larry reminded me when I posted my matza brei photo with short recipe on Google+, there are multiple varieties to this egg-y treat. I decided a fun addition to this post would be to list as many variations as I could think here; feel free to add your own in the comments.
Plain– plain is more or less as I posted it. Good if you are in a rush or you really do prefer plain. I like plain.
Salty – salty would be adding salt and maybe pepper, too.
Savory – I looked up savory, and it seemed to be defined by adding rosemary or thyme. I will include in this options like parsley, dill, scallions, onions, mushrooms and garlic. Of course, you might combine savory with salty as in herbs with salt and pepper.
Sweet – sugar is a common way to make sweet. You could do cinnamon sugar or add raisins. You could eat the cooked matza brei with jam (I would go for this one, as I like the sweet fruit kind).
Spicy – I'm adding another section to include cumin, coriander, turmeric, salsa, hot pepper or other spicy treats.
Note: not all observant Jews eat matza brei on Pesach. Some Jews do not eat grebrokhts, that is, matza dipped in a wet substance. My family tradition is to eat plenty of matza brei.
What do you prefer: plain, salty, savory or sweet? Or spicy or something else all together? Creamy? How would you prepare this dish?