Recipe: Salad in a Jar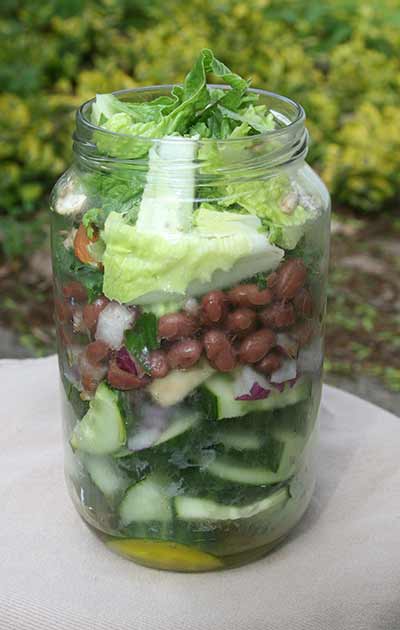 Summer approaches: more opportunities to take food on the go. What do you eat when you travel? Have you ever made salad in a jar?
Last week I drove to U. of Maryland and back to pick up my son. I made my salad in a jar the day before. The only "rules" are put the green leafy vegetables like lettuce on the top, and have the dressing on the bottom. Then, when you are ready to eat, tip over the jar so the dressing runs all through the ingredients. Make sure to bring a fork and plate. It is difficult to eat salad in a jar if you don't have a desk or table handy. Next time I travel maybe I will try a plastic bowl for the salad (not for storing it, just for eating it).
First, I will list the ingredients in my salad in a jar. Then I will make a list of all sorts of ideas of what one can put in the jar. Feel free to add your own food ideas in the comments.
Ingredients for One Version of Salad in a Jar
romaine lettuce – torn into pieces
raw kale – torn into pieces
bits of sunflower seeds, pumpkin seeds, chopped nuts
bean salad – I had a leftover bean salad I had made for Shabbat. It already had a light, garlicky dressing and bits of red onion and fresh oregano.
cucumber – chopped into pieces
dressing – olive oil, raw apple cider vinegar (add a few spices and salt/pepper to taste)
glass jar with wide top
fork and plate or bowl for eating
Make the Salad
Find a jar with a wide top. Locate all your ingredients and assemble them. If you don't have enough ingredients, go to the store, walk through the produce section, and pick out some vegetables! Fruit might work, too. In my case, I chopped up cucumbers and a few red onions. I washed romaine lettuce and kale. I had already made a bean salad the day before.
My first layer is the dressing. I used only cold pressed olive oil and a tablespoon of apple cider vinegar. But in retrospect, a few spices might have been nice (salt, pepper, garlic powder, turmeric are possibilities). Then I added the chopped cucumbers. It is best to add heavy vegetables such as cucumbers, steamed cauliflower, or steamed brussel sprouts – something substantial that the rest of the salad can "sit" upon.


Then I sprinkled my chopped red onion. The bean salad went on top of that, followed by the kale and on top the romaine lettuce. I sprinkled some sunflower seeds and nuts on the top. I did have a hard boiled egg that I took on the side.
When you get to your destination, it is best to have a table or desk upon which to eat the salad. Be sure to take a fork! Turn the jar upside down so the dressing runs all over the lettuce. Put the salad on the plate, and enjoy. You may find this more than you can eat – it would be nice to share with a friend.
Comparison to a sandwich: it is much easier to eat a sandwich on the go. However, I much prefer the taste of this salad in a jar. And my body prefers it as well.
Long List of Ideas for Salad in a Jar
Lettuces: romaine, red leafy, green leafy, all kinds of leafy!
Greens: kale, spinach, watercress – it would be interesting to try some lightly cooked greens in the middle (you may not want it to touch the lettuces until serving time).
Hard boiled eggs (I stored mine separately)./li>
Hard cheese
Seeds – sunflower, pumpkin, chia seeds
Nuts – you may want to be careful about nuts because of the chocking hazard. Even an adult can choke – don't move around when you eat.
Cucumbers
Beets – cooked, uncooked and sliced, fermented – but be aware you may end up with pink salad.
Turnips, Parsnips, chopped, shredded carrots
Cauliflower, brussel sprouts, broccoli – I would want them lightly-steamed
Chopped citrus fruits – oranges, grapefruit, clementine, tangerine
Pomegranate seeds
Chopped apple or pear
Sweet, chopped onion: red or vidalia
Herbs: chopped basil, oregano, thyme, parsley, cilantro
Fermented foods: sauerkraut, fermented garlic or beets
Cooked beans
Zucchini, cooked or uncooked
Pasta
Cooked grains: rice, millet, quinoa (probably easiest if you have leftovers already)
Croutons
Chicken, chopped (or other meats)
Tuna
Pickles? – maybe put it in between layers of hard vegetables
Tomatoes
Potatoes
Supposedly, a salad in a jar will last in the refrigerator for a week, so one could possibly make several in advance, and bring on to work each day.
Your Ideas, Please
If you were going to make a salad in a jar, what would you include?