Tree Illustration: Fruit, Stream, Shade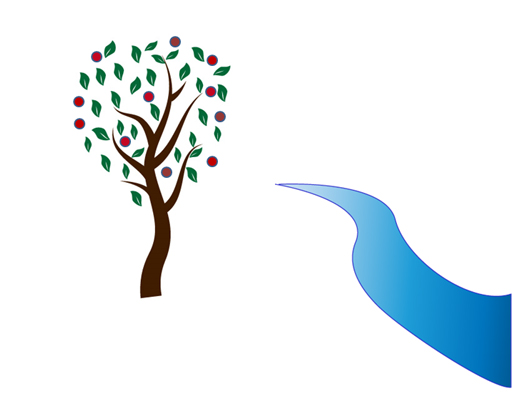 Checking into my blog to say hello to my readers. Above is a tree illustration, once again. This one comes with a story (paraphrased in my own words):
Once upon a time there was a traveler. He was quite weary, hungry and thirsty. He happened upon this beautiful tree. There was a stream flowing by the tree, so he helped himself to a refreshing drink of the water. There were fruits in the tree, so he ate of the fruit. He laid down under the tree and took a nap. When he awoke, he was refreshed and well-rested. Before leaving, he turned to the tree. Tree, oh, tree, how can I bless you? For you have so much already. So he blessed the tree with more of the same.
Source: Taanit 5B-6A
For those that read Hebrew, here is the original Hebrew of what the traveler says to the tree:
אילן אילן במה אברכך, שיהיו פירותיך מתוקין, הרי פירתיך מתוקין, שיהא צילך נאה, הרי צלך נאה. אלא יהי רצון שכל נטיעותיך יהיו כמותך.
Have you ever been grateful to something in nature? Or perhaps grateful to someone in your life who has given you so much?