Flowers of Comfort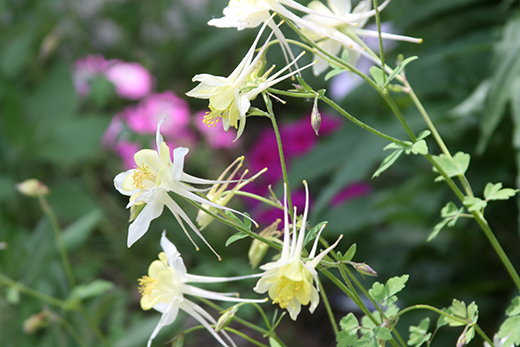 It was a very difficult week for the Jewish people – some say Tisha B'Av, the saddest day of the Jewish calendar came early this year. This is not a political blog; I could send you elsewhere to read some important posts, such as this one or this one. And here's one that is quite thorough on a recent topic.
I will just mention the word nechama – comfort. What do you do or say or post when you need comfort? I'm posting flowers from my garden. Above are the columbines of spring – now gone, except for the seeds. You can sprinkle the seeds from the spring columbines in a different place in your yard, and if conditions are right, you get more columbines!

I grow these Mexican poppies instead of grass on my front lawn. Unfortunately, they are only in bloom for a short time in the spring. I have to be careful not to pull them up when the flowers are done – it is easy to mistake them later for weeds. Some of the poppies' leaves are now turning a brilliant red.

Rudbeckia or black-eyed susan: one of my favorite flowers! These I grow all over my yard, front and back. They seem to be happy here.

Finally, here are some bright summer lilies. My neighbor was admiring these, and I told her I grew them by mistake! I probably pulled a lily in a different spot by accident and threw it by the fence. It took hold right behind a pink rose bush. I think the two look a bit silly together, but whatever.
Do you have favorite flowers? Do flowers bring you comfort?