Berry Cashew Pudding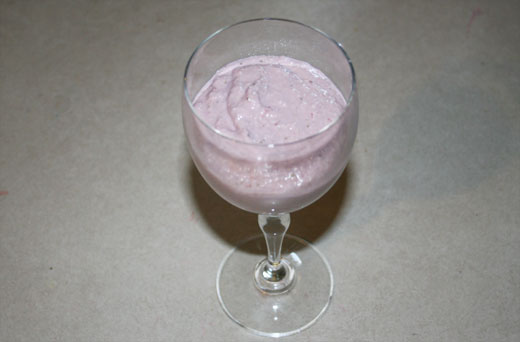 Ingredients:
1 cup strawberries or blueberries (or try some other berries or fruit)
1 cup raw cashews or macadamia nuts
1 pinch of sea salt
1/2 tsp. vanilla extract
3 Tbsp. maple syrup or honey (or to taste)
Soak the nuts for about 4 hours and drain. Blend all ingredients using food processor or blender until creamy and smooth. Serve immediately or chill. The original recipe suggests adding a little water, soymilk, or almond milk to facilitate blending if needed (I didn't do this).
I've made this twice with blueberries (original recipe called for blueberries) and once last week with strawberries, as pictured.
Source: www.GetHealthyWithCarol.blogspot.com via Klara
Update in 2015: I made this again – it was delicious. This time I used frozen strawberries. Because they were frozen, my food processor took a long time to get them pureed. I then added some oat milk – that helped a lot with the pureeing process. I forgot the sea salt – I have no idea why they are in original recipe. I will ask Klara. And this time even my daughter liked this dessert – she has plans to serve it in beautiful wine glass topped with real fruit and bits of cereal (I will definitely skip that last one for me). Update on wine glasses: too tall. Next time we will try yahrzeit glasses (small little glasses of which we own an abundance). Note: the little glasses (we used yahrzeit glasses worked). Tip on using frozen fruit: let it defrost for about twenty minutes or more … that will help making the blending easier.