Excitement of a Purplish, Red, and Pink Radish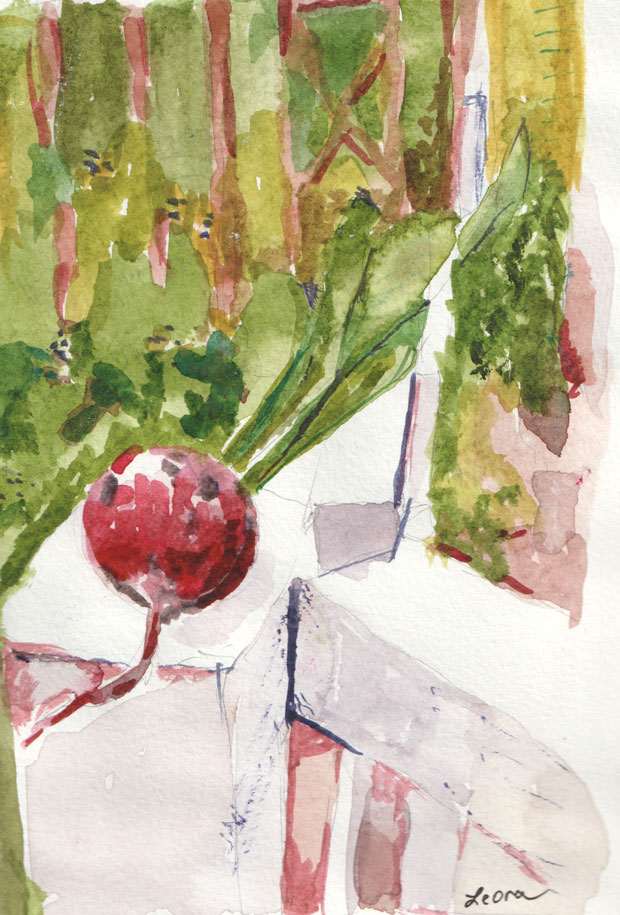 I was fiddling in my garden, and I saw the top of something purplish red. Behold! It was my first radish, in my new garden structure built by my friend Yosef Schmidt. I was so excited that I took a photo. It felt like the first "fruit" of my new garden: the other produce so far has been greens.
It turns out that there is a challenge called #studyfromlifechallenge on Instagram. You are supposed to paint from real life based on a weekly theme. So this week the theme was pink. When a painter looks at that radish, it is not just one shade of color. So I started my watercolor with opera pink. I later added some alizarin crimson and a tiny bit of cobalt blue.
Below is a photo of the garden structure when it was first built. It is 7 feet tall, and I commissioned Yosef to build it because the deer kept eating my plants. And we used to have a groundhog that lived on our garage that would eat all sorts of goodies in my garden. It has a door in the back, and a row for a human to walk into the structure and examine the three garden beds that are in a U shape.
So far, I have grown micro greens, french chervil, parsley, lettuce, and now radishes! Pea plants are growing, but no peas yet. Hopefully, basil, tomato, cucumber, and beans in the summer.