Pickling Pickles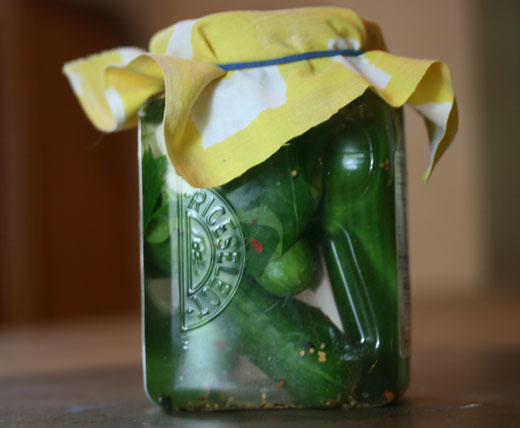 It sounds daunting, making your own pickles, but the trick is assembling the ingredients and equipment. The rest is throwing it together and patience. You don't want to use vinegar in your pickles – the whole idea is to create your own fermentation, so you can reap the benefits of the good bacteria from pickling. This recipe was inspired by the Sour Pickles recipe in Sandor Ellix Katz's book Wild Fermentation.
Ingredients and Equipment
1 large jar or jug or plastic bucket (just has to be big enough to fit your pickles)
6 medium-sized pickling cucumbers (you can use as many as fit in your container)
2 tsp. Ball Pickling Spice (or make your own with black peppercorns, dill seed, cardamom seed, mustard seed, allspice, coriander, bay leaves)
3 – 6 cloves of garlic, peeled and sliced in half
4 tsp. sea salt
water – enough to cover the pickles
grape or oak or horseradish or sour cherry leaves (to keep the cucumbers crisp – the tannin in the leaves is supposed to help) – I used oak leaves
1 piece of cloth and 1 rubber band
1 small lid + 1 weight, such as a rock or two to weigh down the pickles (I updated this recipe with this recommendation)
Place the spices, leaves, garlic and cucumbers in the container. Sprinkle at least 3 tsp. of sea salt on top. Pour water into the container so that it covers the pickles. If you want, you can then add some more salt. Sandor Katz suggests covering the pickles with a plate and a weight; since I don't have a plate that small (he was using a big bucket instead of a jar), I used a smaller jar lid from a different jar and two rocks to weigh down the pickles. Cover with cloth and rubber band.
Check the pickles every day. If a little mold is growing on the top of the pickles, wash off the mold. The pickles may be ready in a week or in two. My first batch tasted a bit like a mild sour pickle after one week of soaking in the brine and spices.
• • •
If you like homemade pickles, maybe you will enjoy homemade sauerkraut, too.