Review with Mime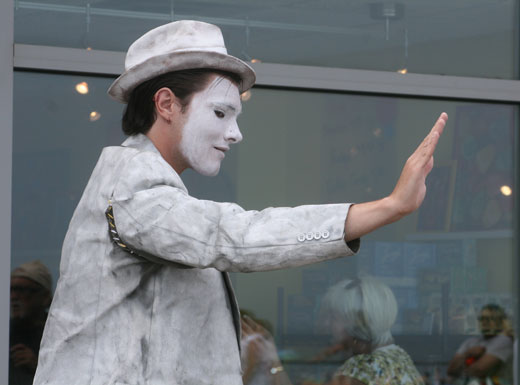 It was fun to watch this mime perform on the boardwalk in Asbury Park. He would start to move towards you and then suddenly stop and freeze. When I gave my daughter some money to put in his bucket, he motioned toward her, but she didn't know why. You can see what happened next in the photo at the bottom.
On My Blog
The BIG GIGANTIC news today in our household is that the RPRY team of middle son (5 of them) won the Torah Bowl Championship. They previously won the New Jersey division, and today they beat New York schools SAR and HALB. Torah Bowl is sort of like Jeopardy – they get asked questions about certain parts of the Torah, and they have to answer quickly.
Elsewhere in the Blogosphere

Here's my daughter and the mime – he had motioned toward her so she could get her picture taken with him. He did that to anyone who put money in his bucket.
I posted these mime photos as part of Straight Out Of the Camera -I have a bit of time online on Saturday night. On Sunday, I'll be marching down 5th Avenue in New York City with my kids' school.