Create Salad Dressing with Olive Oil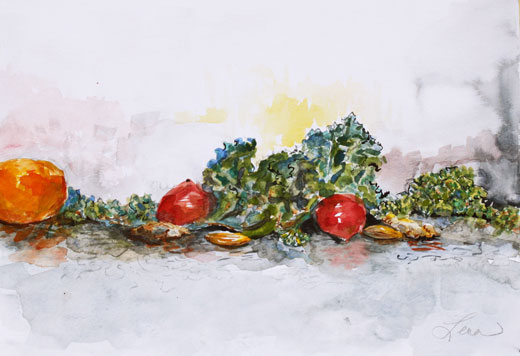 It is customary to eat foods with oil on Chanukah. However, one is not obliged to eat fried foods on Chanukah. Yes, yes, I will be serving latkes (potato pancakes) as well as sufganiyot (doughnuts, usually jelly doughnuts but we leave out the jelly). For this post, however, we will be creating salad dressing with olive oil. That way, one can fulfill the custom of eating foods with oil in a healthy manner (yes, first cold pressed olive oil, uncooked, is actually good for you). And why do we eat foods with oil on Chanukah? Because of the little vial of oil found in the Temple in the days of the Maccabees – the vial was only supposed to light the menorah for one day, but miraculously, it lasted for a whole eight days (thus, eight days of Chanukah).
So here are some salad dressing ideas:
Olive oil, raw apple cider vinegar, sea salt, turmeric, pepper and garlic powder
Olive oil, lemon juice, salt and pepper
Ilana-Davita's Sweet and Tangy Dressing (balsamic vinegar, olive oil, sweet chili sauce, salt and pepper)
Rachel: crushed garlic, dijon mustard, red wine vinegar, salt, pepper, dried oregano (if your kids don't mind "green stuff") and olive oil
Rachel: lemon juice, cumin, salt and pepper, and olive oil
Olive oil, honey, mustard, a little orange juice and a little vinegar, salt and pepper.
Ilana-Davita: balsamic vinegar, olive oil, soya sauce, lime juice, salt and pepper
Sandy: Cilantro or basil in the blender with vinegar and olive oil.
Get the idea? How do you dress your salad? If you comment and it fits the olive oil category, I'll add it to the list.