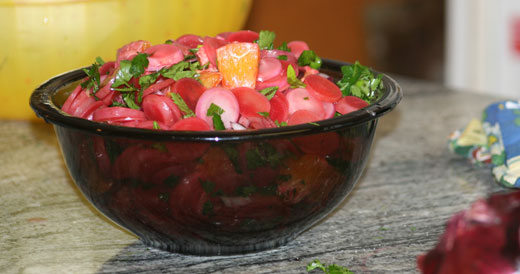 Avdus L'Herus (Slavery to Freedom) Salad Revisited
Passover is a challenge even for vegetable salads – sometimes one cannot get a certain condiment with a Pesach hashgacha (approval) that adds flavor, so one gets creative. Last year I blogged about the Slavery to Freedom Salad. This year I became enamored of a macrobiotic dish of pickled radishes with umeboshi paste. Since I cannot get the umeboshi paste for Passover, I came up with this combination of the two salads:
Ingredients:
3 fresh beets – boiled and beet juice preserved
1 bag of red radishes, sliced
1 bunch chopped mint (or substitute parsley or cilantro)
3 navel oranges, cut into pieces
1 half chopped red onion
Cut the radishes into circles and cook them until slightly soft in the beet juice. Mix with oranges, chopped parsley and red onion. Serve at room temperature.
• • •
Beet Salad
Don't know what to do with the cooked beets? Here is what I put together:
Peel the beets after boiling. Discard skins. Chop into circular pieces (and then cut in half again, if desired). Drizzle with olive oil, sea salt and pepper. Garnish with scallion and parsley. Sprinkle with fresh lemon juice.