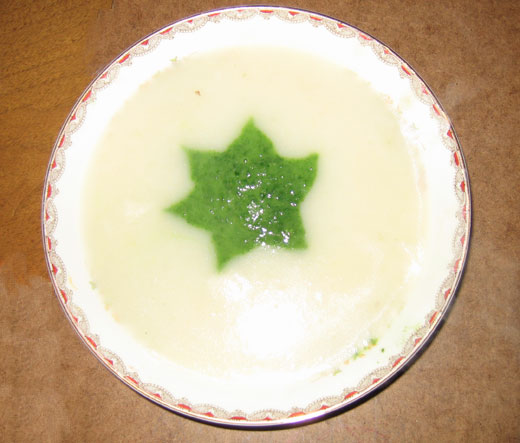 Guest Recipe by Kira
The potato leek part is my older daughter's favorite soup, and we make that quite often, and she prefers it without any milk or cream. Both kids love the novelty of having the green star in the middle, and they actually eat the spinach (swirling it with the soup to dilute the taste). I think the spinach purée alone makes a pretty tasty dairy-free "creamed spinach" side dish, but since I am the only one in the family who likes creamed spinach, I don't make it unless I am making the soup.
If you don't have a kosher for Passover cookie cutter, use a cup.
Potato Leek Soup
(makes 10 servings)
Ingredients
3 leeks
5 tbsp olive oil
2 pounds white potatoes, chopped
2 qts water
Salt and pepper to taste
½ cup cream or milk (optional)
Cooking equipment
Cutting knife
Colander
Spatula
Measuring cup
Measuring spoon
Large pot
Cookie cutter or small plastic cup with the bottom cut off
Blender (stick blender works nicely)
To make the plain potato leek soup:
1. Discard tough part of green tops of leeks, then wash bottoms thoroughly
2. Cut leeks into thin slices and rinse in colander.
3. Cook in olive oil until leeks are soft – about 5 minutes.
4. Add potatoes and water and bring to a boil.
5. Lower heat and simmer for 30 minutes or until potatoes are soft.
6. Puree with a blender.
Add salt and pepper to taste. For a creamier variation, add ½ cup of cream or milk
Spinach Purée
1. Blanch 1 lb of baby spinach (Put in small colander and submerge briefly into boiling water until barely cooked. Then transfer to bowl of ice water.)
2. Drain spinach.
3. Puree with ¼ of batch of potato leek soup.
Assemble final soup by placing the cookie cutter in the bottom of a soup bowl. Spoon spinach puree into the cookie cutter to desired depth. Pour potato leek soup around cookie cutter to the same depth. Then remove cookie cutter and repeat in another bowl.
For more kosher for Passover recipes, visit: